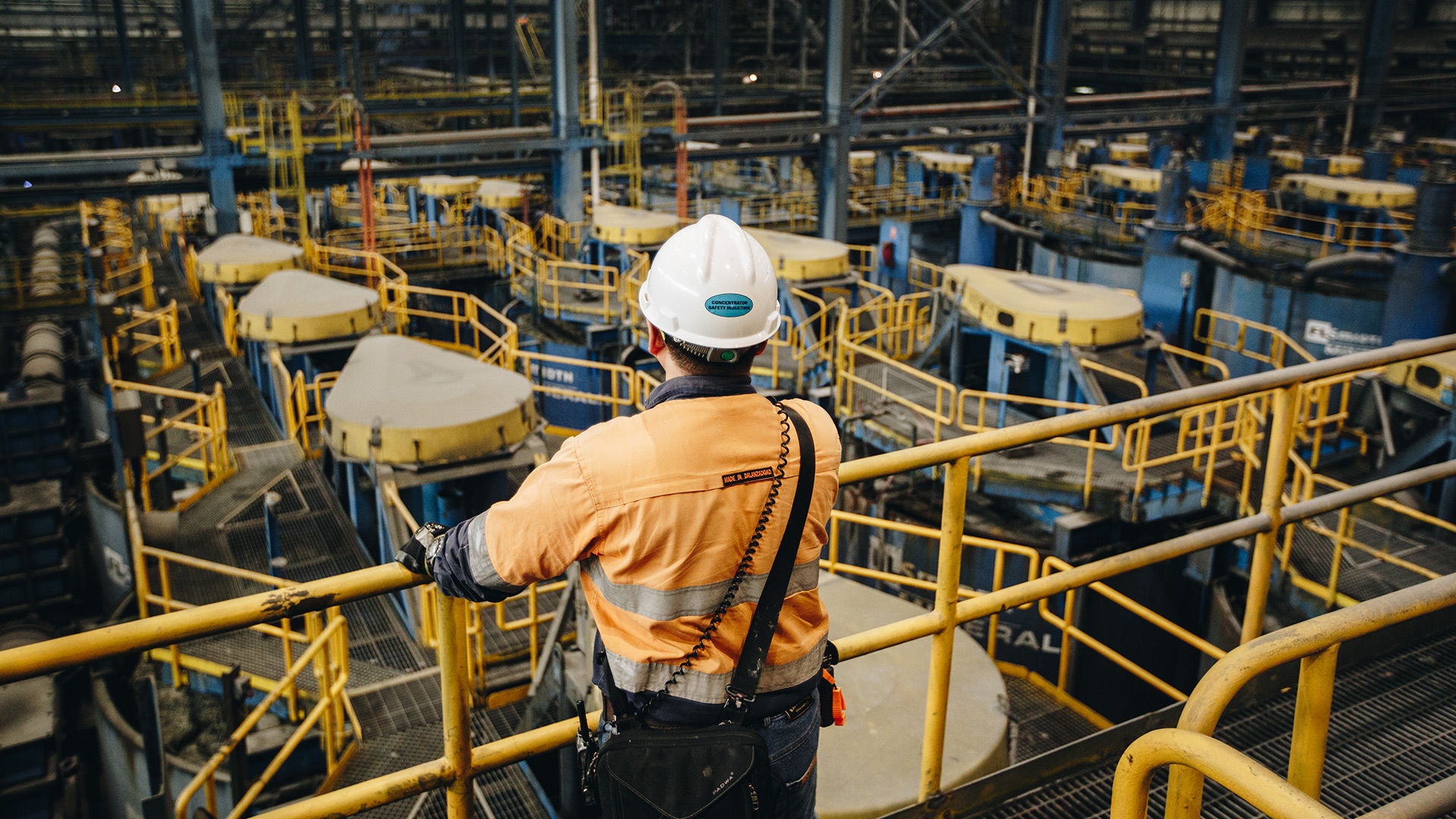 Decade of innovation, lifetime of opportunity
Many standout moments have helped define the first 10 years of operation at Oyu Tolgoi
---
Last updated: 4 March 2022
---
Global demand for copper increases every year as it becomes an ever more essential material for renewable energy, transport, and telecommunication in the race towards net zero.
Oyu Tolgoi (OT) in the South Gobi region of Mongolia is an important supplier for this demand, as one of the largest known copper and gold deposits in the world.
Since open pit mining began at OT in August 2011, this remote corner of the Gobi Desert has developed into one of the most modern, safe and sustainable mining operations in the world.
We've achieved a lot at OT over the last decade, although there is always more we can do to produce these essential materials in the right ways, creating a positive legacy as we work hand-in-hand with communities, governments, suppliers and partners.
Building on the knowledge we've gained in this time, we are now finishing construction of a world-class underground mine at the site.
OT will be the fourth-largest copper mine in the world when complete, and will use some of the most complex mining techniques in the world to reach valuable deposits of copper and gold buried deep in the Earth.
The commencement of Oyu Tolgoi underground mining operations demonstrates to the world that Mongolia can work together with investors in a sustainable manner and become a trusted partner."
- Luvsannamsrain Oyun-Erdene, the Prime Minister of Mongolia
Given its significance for the global copper industry, and to ensure we make a positive mark by continuing to contribute to Mongolia's prosperity, we're carefully planning the new mine to remain a sustainable asset for many decades to come.
And as we hit this decade milestone and look towards an exciting future, we're also taking a moment to reflect on some of the ways we've been working to leave a lighter environmental footprint while creating a positive legacy for the people we work with.
Responsible copper

OT's copper concentrator – the largest industrial complex ever built in Mongolia –
began processing mined ore into copper concentrate in 2013. Since then, we've
looked for ways to ensure our copper is responsibly and ethically produced.

Responsible copper

In 2020, we were the world's first producers to be awarded the Copper Mark –
the industry's independent assurance programme, which verifies that copper is
responsibly produced against 32 environment, social and governance criteria that
are based on the United Nations Sustainable Development Goals. We are proud to
have been recognised for our commitment to health and safety, low emissions,
human rights, and community development.

Investing in the communities we work with

To ensure that we support local communities, we are committed to employing local people, buying local products, and engaging local services at OT.

Investing in the communities we work with

Mongolian citizens make up 96% of OT's workforce, 25% of whom are from the local Umnugovi district.

Investing in the communities we work with

OT also draws on international experience to support the Mongolian workforce, implement advanced technology, and establish an exemplary safety culture. Today, more than 50 of OT's Heavy Mobile Equipment operators are women.

Investing in the communities we work with

OT also has a "Global Nomads" program that aims to give Mongolian employees' additional experience overseas, which has seen OT miners work at Kennecott copper mine in the USA and other mine sites in Australia.

Investing in the communities we work with

"We are proud of working with many highly skilled and experienced Mongolians and
others from various countries to create the current operation and establish a
high level of safety culture."
- Otgonbayar Togtokhbayar, General Manager of OT Mine Operations.

Investing in the communities we work with

To further increase local employment, we have also established the Umnugobi Job Seekers Information and Skills Database, providing human resource counseling and training to local job seekers, and highlighting vacancies advertised by our contractors.

Investing in the communities we work with

OT maintains a dedicated national procurement policy focused on promoting and developing a safe and sustainable local supply chain, which includes a "Made in Mongolia" strategy which prioritises local goods. In partnership with German international development agency GIZ and the Umnugovi Aimag, we also run a capacity-building program for local businesses on topics such as health and safety, business integrity and management, financial literacy, and lean manufacturing. Since 2018, OT has hosted 266 training sessions with more than 3,500 participants from more than 450 small and medium-sized businesses – 58% of whom were women.

Investing in the communities we work with

The Gobi Oyu Development Support Fund, established in 2015, is another OT success story. It's provided MNT 65.3 billion (US$27 million) in funding and supported more than 187 projects and programs for healthcare, transport, education, food processing, agriculture and heating – all locally supplied and employed.


Investing in the communities we work with

A novel local development project, known affectionately as 'Goat to Coat', is a unique partnership approach to community advocacy and sustainability. Organisations as varied as luxury goods maker Kering, the nonprofit Wildlife Conservation Society (WCS), Stanford University, and even NASA are working with us to help local goat herders maximise their profits by moving up the cashmere supply chain, making production far more sustainable for both herders and the global fashion industry.

Managing a vital resource

The Gobi Desert is arid and remote, making water a resource that's both scarce and
in high demand. Local herders rely on shallow sources of groundwater for their animals, while OT needs to use water from that same region.

Managing a vital resource

We recognised the local community's concerns about the potential impact of our
operation on the ecosystems in and around OT, and knew careful water management
would be essential in planning and operating the mine.


Managing a vital resource

Over the last 10 years, we've carefully stewarded the region's scarce water resources. Working closely with the community, we have successfully ensured that water remains an accessible resource for both OT and local herders.

Managing a vital resource

Recycling and conservation practices make OT one of the most water-efficient mines of its kind in the world. More than 80% of the water used in production is recycled, and on average, OT uses cubic metres of water to process a tonne of ore – around a third the industry average.

Managing a vital resource

We use our allocated water efficiently, working with herders, locals and the government to protect the water in boreholes, existing wells and other community water supplies. One way we verify this is through our community water-monitoring programme – we check the water levels and quality in local herders' hand-dug wells, and they keep their own water records for comparison. The comparative data has shown no negative impact on the wells from the mine's operations.


Managing a vital resource

But we knew that to remain sustainable for decades to come, especially with an ever-growing underground capacity, OT would need new water sources to sustain operations. So prior to operations beginning, OT discovered the enormous Gunii Hooloi aquifer.

Managing a vital resource

Gunii Hooloi, which holds non-drinkable saline water and is roughly 12 times the size
of Sydney Harbour, will allow OT to continue to efficiently mine without affecting local communities and their access to the Gobi Desert's already scarce water resources.

Safety first

Safety is everyone's responsibility, and the OT team are leaders in safety at Rio
Tinto. This is the result of careful management, a vigilant site culture, and regular communication and training. A number of technological innovations have also supported OT's safety record during the past 10 years.

Safety first

For worker safety, we have implemented SmartCap – an advanced safety-technology device that monitors and controls fatigue.

Safety first

We are using innovative mining techniques, such as block caving, which uses gravity to cost-effectively extract valuable materials.

Safety first

Another innovative technique at OT is called re-split blasting – a safer and more
efficient method of excavating.

Safety first

We have also partnered with the Ministry of Mining and Mongolian Unmanned Aerial Vehicle association to use drones for blasting, removing people from blast zones and contributing to a safer and more efficient mine.