Re-planting an ecosystem without topsoil
Researching new techniques to rehabilitate land
---
Last updated: 22 February 2022
---
It's hard to imagine planting a tree without topsoil, but at our Gove bauxite mine in East Arnhem Land, Northern Territory, Australia, we're working to rehabilitate a site the size of 300 football fields without it.
During a mine's closure, tailings – waste leftover from mining and processing – are capped and rehabilitated using fill material and topsoil from an approved borrow area.
But at Gove, we can't access enough topsoil to cover the tailings site and the borrow area, which both need to be rehabilitated carefully. And because of the site's remote location, it's difficult and costly to import topsoil to site.
With many mines located in remote areas, challenges like these are not unique to Gove. So the techniques we're applying here have the potential to change the way we approach rehabilitating land, especially in areas where locally sourced topsoil may not be of a suitable quality or readily available.
What is a borrow area?
When we rehabilitate a mine site using conventional methods, we take topsoil – the part of the ground that's rich with organic matter, microorganisms and minerals that help plants grow – from a borrow area, which is an area of land that's approved to supply soil for rehabilitation activities.
Working with external experts to get it right
Bauxite is the basic raw material that is refined into alumina, which in turn is sent to smelters for processing into aluminium. Aluminium is found everywhere in life – from beverage cans to buildings – and as it's light, strong and infinitely recyclable, it will be an important material for the low-carbon transition.
We have been mining bauxite at Gove for more than 40 years, and project that we'll cease operations in 2030. We have a responsibility to make sure the land is rehabilitated properly, so we're working closely with Traditional Owners and government to make sure we leave a positive legacy for future generations.
Topsoil-free rehabilitation is a new concept, and one we need to get right to make sure we meet our obligations and restore the land the right way. So we have engaged a broad group of civil and environmental experts – including Aecom, Red Earth Engineering and Agrichem – to develop a pilot testing plan, and trialed the new concept on a small area first, to prove it works.
Once we've finished accessing fill material for the tailings facilities, we'll begin progressively rehabilitating the borrow area – without using any topsoil at all.
"We're completely substituting topsoil with a mix of organic matter, hydro mulch and fertilisers, which will improve water retention and nutrients, and protect against erosion," said Michelle, Superintendent Closure at Gove.
We're continuously testing, learning and refining to improve the speed, feasibility and cost of rehabilitating land in this way."
Overcoming the challenges of using a new method on a remote site has been a progressive learning curve for the Gove team.
The first hydro-mulched cover crop failed due to seed viability, so we're improving our seed collection and storage facilities to avoid future rework.
We also tried to use traditional scarification methods – where large machines rip into the ground to expose layers of soil beneath – to incorporate wood mulch into the soil mix, but found it didn't suit the high-clay soil structure. So we worked with industry experts to find another way, and now use raking methods instead.
And while native species are the right choice for the long-term sustainability and biodiversity of the area, they also present challenges: if native cover crops don't take quickly, erosion can set in. Gove's monsoonal climate during wet season exacerbates this challenge, with the site particularly susceptible to inundation and flooding. This needed to be considered too.
"We've completed the trial area to refine our methodology – we test and improve the way we change soils, prepare fields, build our soil mix, select native species and manage seed availability," Yvette said.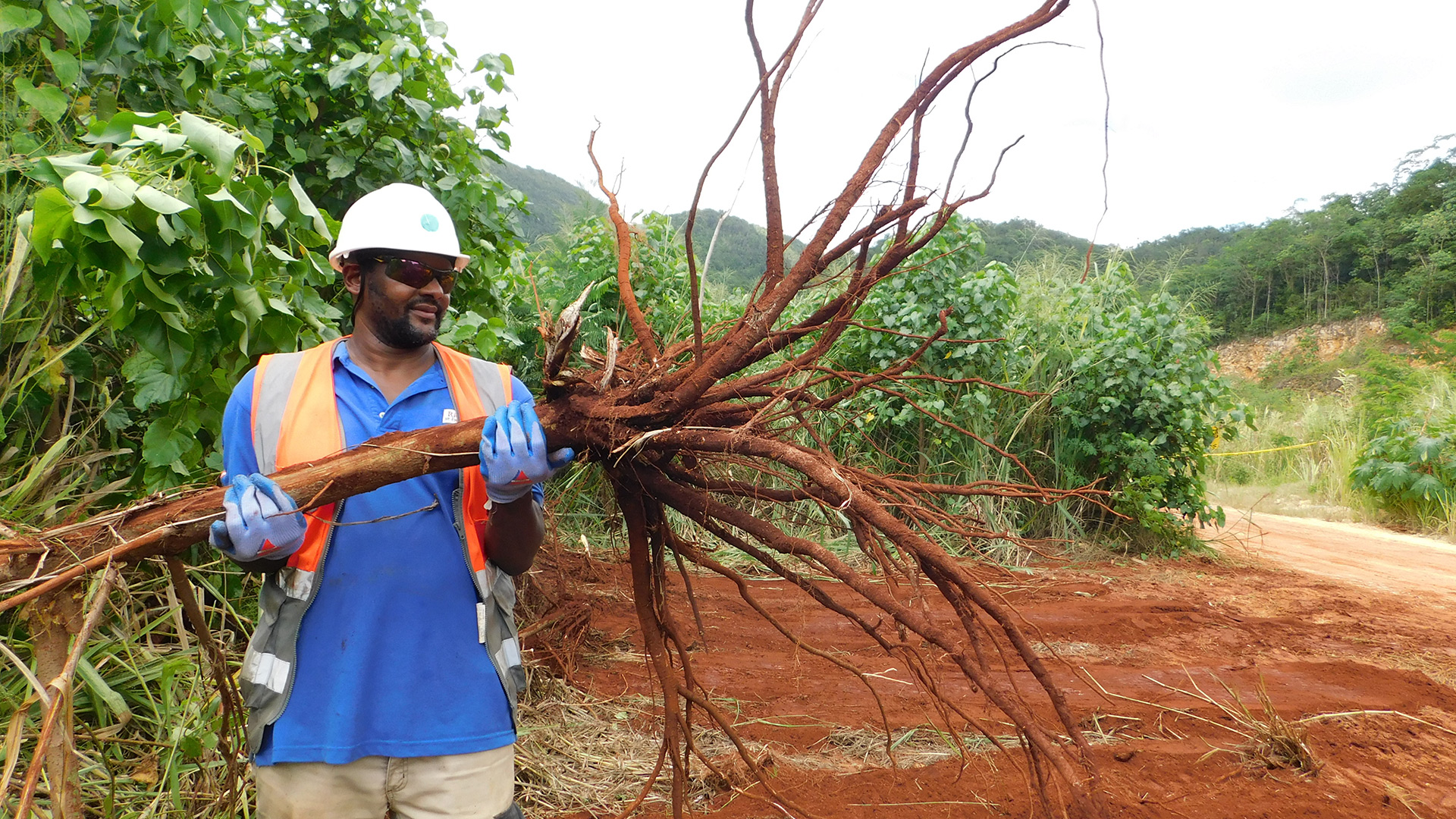 Other topsoil-free solutions
Mount Rosser, Jamaica
Rio Tinto inherited a red mud bauxite residue tailings facility at Mount Rosser, Jamaica, as part of our acquisition of Alcan.
More

After extensive local community and government engagement in 2006, we began a project to fully vegetate the site, build a new spillway at ground level, and then hand the site over to the Jamaican government.

The team successfully treated the mud turning it into soil, eliminating exposure to toxic red mud and improving the quality of runoff water, thus reducing the amount of treatment required.

Mt Rosser was the first time a topsoil-free approach had been attempted and led to improved environmental and community outcomes.
Positive results
The hard work to innovate and improve the approach through these early challenges is paying off.
Since rehabilitation and planting began in the Gove borrow area in early 2020, more than 90% of tubestock has survived and established rapidly in the topsoil-free areas – with no irrigation, no erosion or sediment control, and minimal weed control.
With more than 300 hectares to progressively rehabilitate over the next decade, the team is now applying what they've learned to the rest of the site.
"Some native species we are planting in the area only seed every 2–3 years, so there is a lot riding on getting this right," says Yvette, Closure Environmental Advisor at Gove.
"What's really exciting about this project is how it could contribute to improving rehabilitation outcomes at mines around the country – and potentially the world."