Jadar
SERBIA
The Jadar project in Serbia is one of the world's largest greenfield lithium projects. The scale and high-grade nature of the Jadar deposit provides the potential for a mine to supply lithium into the electric vehicle value chain for decades.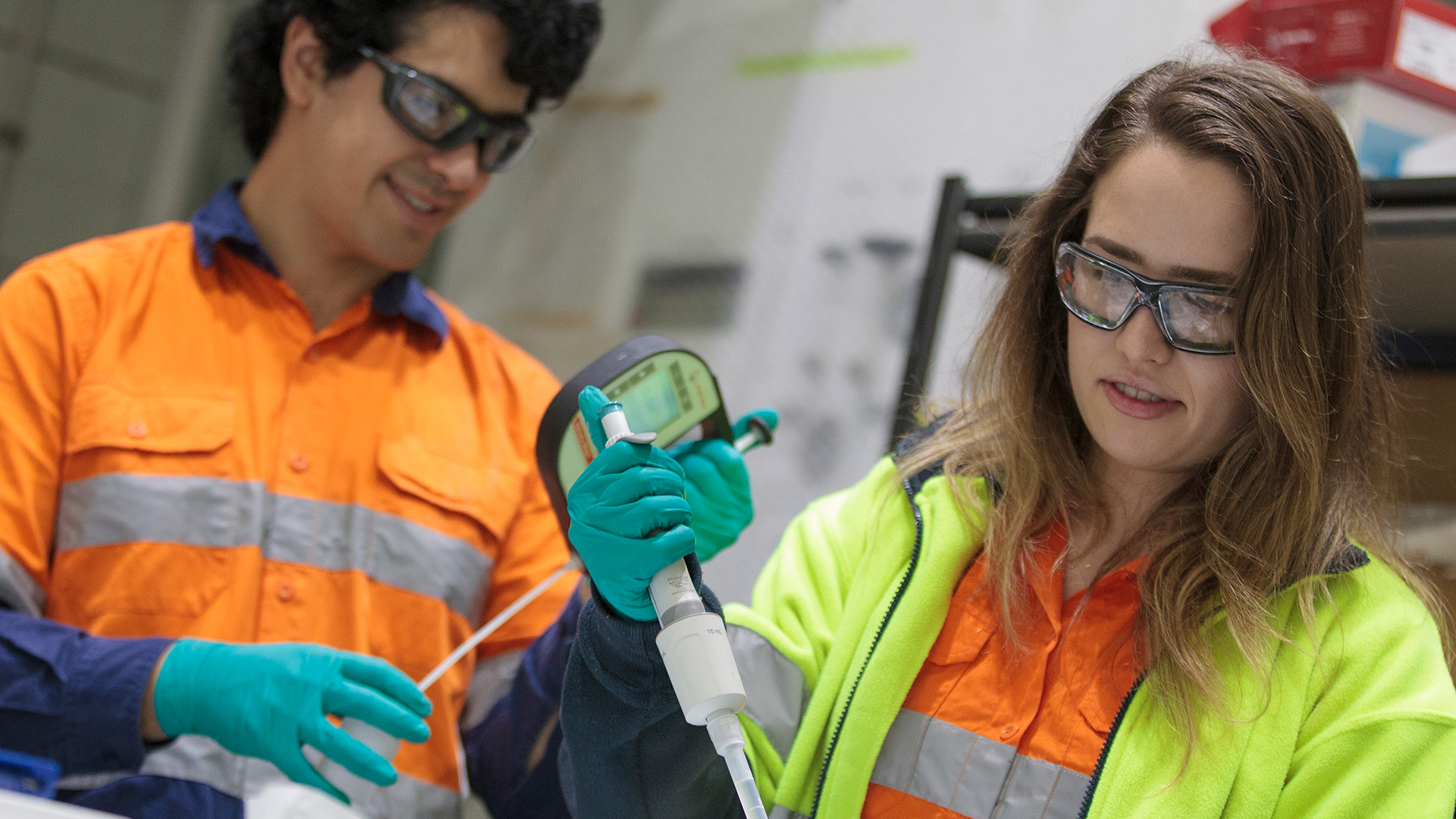 More

Jadar will produce battery-grade lithium carbonate, a critical mineral used in large scale batteries for electric vehicles and storing renewable energy. Once in operation, Jadar will be the largest source of European lithium supply for at least the next 15 years. In addition, Jadar will produce borates, which are needed for the development of renewable energy equipment such as solar panels and wind turbines.

In July 2021, we committed funding of US$2.4 billion to Jadar. We recognise that in progressing this project, we must listen to and respect the views of all stakeholders. We are committed to upholding the highest environmental standards and building sustainable futures for the communities we operate in. The project remains subject to receiving all relevant approvals, permits and licences and ongoing engagement with local communities, the Government of Serbia and civil society.

The proposed development will include an underground mine with associated infrastructure and equipment, including electric haul trucks, as well as a beneficiation chemical processing plant to produce battery-grade lithium carbonate.

The next steps for the project are seeking an exploitation licence and receipt of regulatory approvals. This includes approval of the environmental impact assessment (EIA) studies, which will shortly be made available to the public for comment. The EIA is required for the commencement of works, with construction targeted to start in 2022. Construction will take up to four years with first saleable production expected in 2026.
Gudai-Darri (Koodaideri)
WESTERN AUSTRALIA
In 2018 we approved funding for our $2.6 billion Gudai-Darri (Koodaideri) iron ore project – set to be our most intelligent mine. The first phase of Gudai-Darri will have a 43 million tonne annual capacity, underpinning production of the Pilbara Blend™. The project will incorporate a processing plant, associated infrastructure and a 166-kilometre rail line. Mining has begun and the project is expected to ramp up in early 2022, reaching full capacity in 2023.
More

In addition to technology already in use across Rio Tinto, such as autonomous trucks, trains and drills, the design of the Gudai-Darri mine uses an increased level of automation and digitisation, including advanced data analytics.

Significant innovations include a digital replica of the processing plant, accessible in real time by workers in the field, fully integrated mine automation and simulation systems, and an automated workshop. With more than 70 design innovations in scope, Gudai-Darri will set a benchmark for our industry in terms of automation and the use of data – making mining safer and more productive.

In early 2020, we secured funding approval for the development of a 34 megawatt, 105 hectare solar photovoltaic (PV) plant at our Gudai-Darri mine – an important step in reducing our carbon footprint in the Pilbara. The Solar PV plant will deliver approximately 65 per cent of Gudai-Darri's average electricity demand once operational. During peak operations, the plant will provide 100 per cent of Gudai-Darri's electricity needs.
Oyu Tolgoi Underground
Khanbogd, Mongolia
The Oyu Tolgoi copper mine in Mongolia is a world-class open pit mine and underground project. More than 80% of Oyu Tolgoi's total value lies deep underground. We are building an underground mine complex, that will use block-caving mining techniques to extract the ore and transport it to the surface.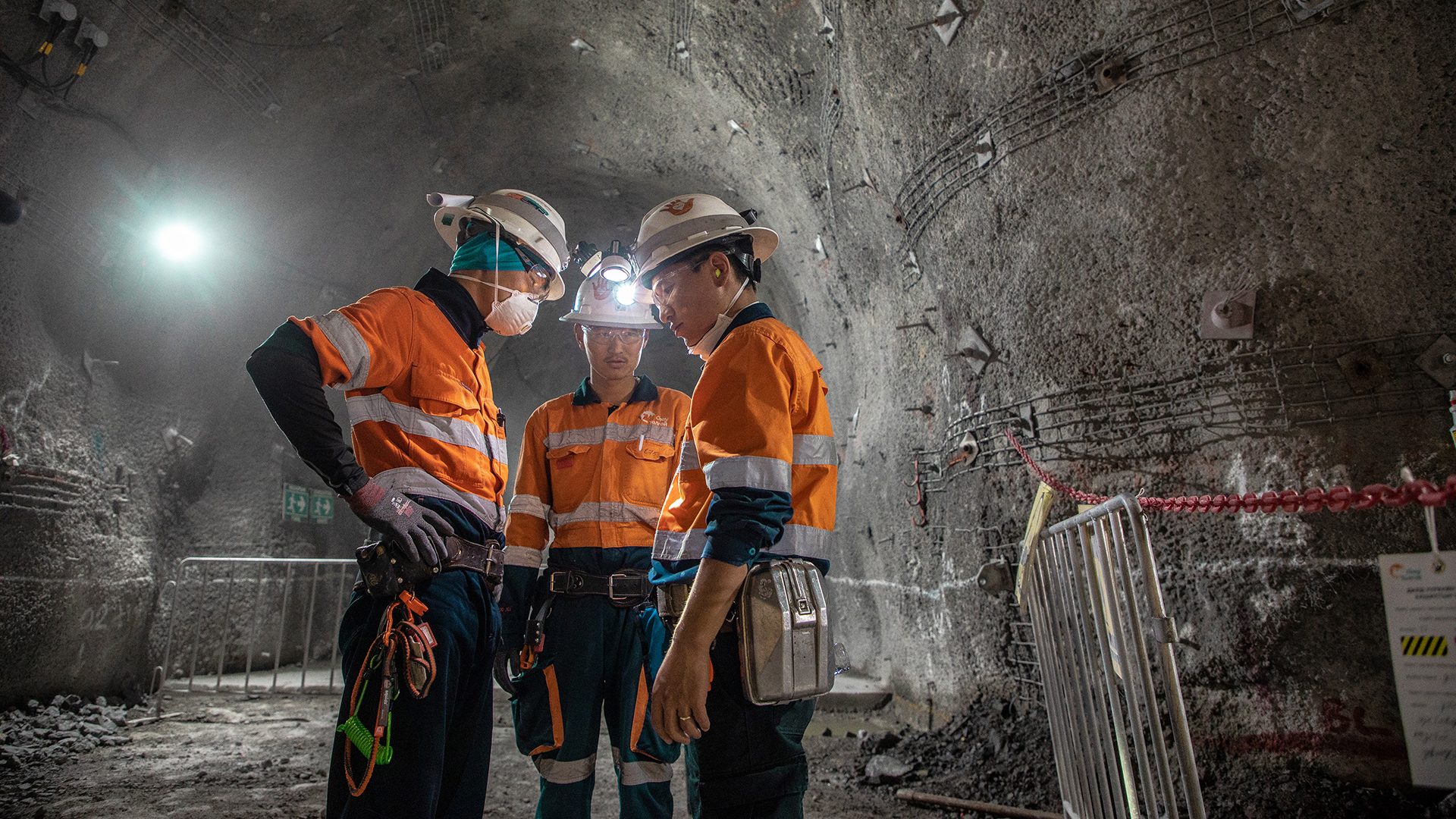 More

In December 2020, we confirmed the definitive estimate of cost and schedule for Panel 0 with sustainable production expected to commence in October 2022 and development capital of $6.75 billion1. At peak production, Oyu Tolgoi is expected to produce 480,000 tonnes2 of copper per year on average, from 2028 to 2036, from the open pit and underground. By 2030 it is expected to be the fourth largest copper mine in the world.

Progress on the project has been significantly affected by heightened COVID-19 constraints in Mongolia. To comply with COVID-19 restrictions, site resourcing levels were less than 25% of planned requirements. Despite these restrictions, the Material Handling System 1 is now 90% complete with technical criteria achieved to support undercut commencement, subject to the ongoing impacts of COVID-19 and satisfactory resolution of the non-technical undercut criteria.

All stakeholders remain committed to moving the project forward and ensuring a long-term solution to the issues under discussion. A number of additional milestones need to be met in order to ensure that the project can commence caving operations (by initiating the undercut) including: key regulatory milestones such as registration of the updated Resources and Reserves and acceptance of the updated Feasibility Study (OTFS20) by the relevant governmental agencies of Mongolia; project budget uplift in line with the definitive estimate to be approved by the Oyu Tolgoi board; funding plan in line with the Heads of Agreement signed in April between Rio Tinto and Turquoise Hill Resources to be approved by the Oyu Tolgoi Board; and milestones for the power solution.

---

1Project baseline reporting has been updated following endorsement of the definitive estimate by Rio Tinto Board and Turquoise Hill Resources (pending Oyu Tolgoi board approval). The definitive estimate assumed COVID-19 restrictions in 2021 that were no more stringent than those experienced in September 2020 and noted that should COVID-19 constraints continue beyond 2021 or should the COVID-19 situation escalate further in 2021 leading to tougher restrictions, additional costs and schedule impacts will arise. Since the definitive estimate, at the end of 2020, Mongolia implemented additional restrictions in response to community transmission cases, and in March 2021 the first cases of COVID-19 were identified at Oyu Tolgoi resulting in temporary site shutdown, quarantine measures and further travel and movement restrictions. The impact of these additional restrictions, which have continued throughout this period and are beyond those experienced in September 2020, is ongoing and still to be determined.

2 This production target (stated as recovered metal) for the Oyu Tolgoi underground and open pit mines was previously reported in a release to the market on 16 December 2020 (market release). All material assumptions underpinning the production target continue to apply and have not materially changed.

3 This production target (stated as recovered metal) for the Oyu Tolgoi underground and open pit mines was previously reported in a release to the market on 16 December 2020 (Market release). All material assumptions underpinning the production target continue to apply and have not materially changed.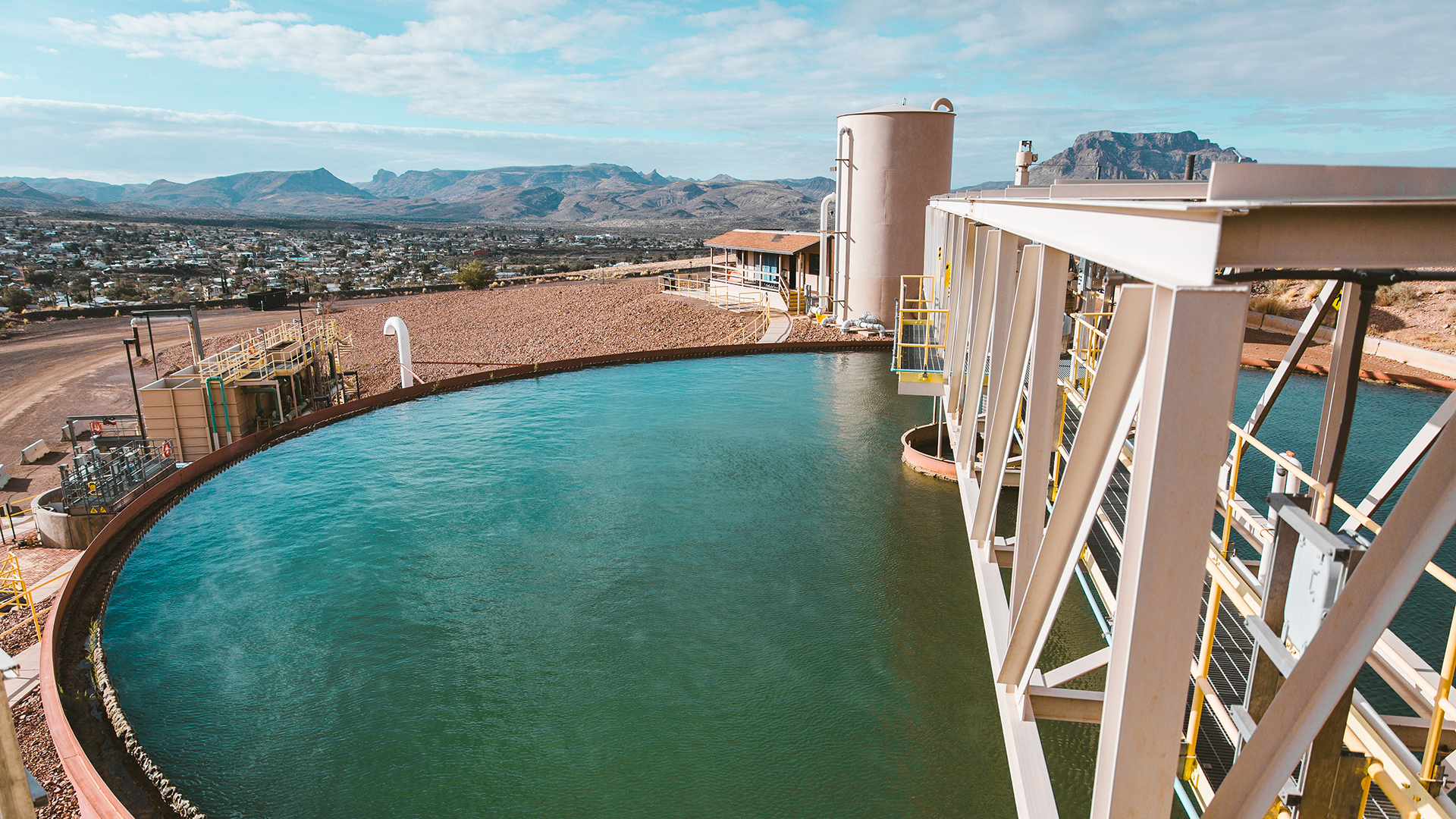 Resolution
ARIZONA, US
The Resolution Copper project is a proposed underground copper mine in the Copper Triangle, approximately 60 miles east of Phoenix, Arizona, in the western United States.
More

Resolution has the potential to supply up to 25% of US copper demand, and create several thousand direct and indirect jobs, with an economic value of approximately $1 billion annually over the estimated mine life.

Resolution Copper will rely on a technique called caving to extract the deposit that lies more than 2,000 metres deep. This technique uses gravity to help extract the ore and is the most viable way to recover the resource.

The shaft 9 rehabilitation and sinking project was completed in November 2020, four months ahead of schedule and within budget.

On 1 March 2021 the US Forest Service was directed to withdraw the Notice of Availability and rescind the Final Environmental Impact Statement (EIS) and draft Record of Decision that were previously published on 15 January 2021. We are continuing to assist the US Forest Service with its review of the Final Environmental Impact Statement and draft Record of Decision. Mine studies continue to progress in parallel. We recognise the historical connection that each of the 11 consulting Native American Tribes has with the land. We acknowledge the significance of these connections, which have endured over centuries. We strive to build constructive relationships with each Tribe based on mutual respect, meaningful engagement, trust, mutual understanding and mutual benefit. We are committed to ongoing stakeholder engagement in our effort to seek consent to progress the project consistent with the International Council on Mining and Metals (ICMM) Statement on Indigenous Peoples and Mining.
Simandou
Nzérékoré, GUINEA
Simandou contains one of the world's largest and richest high-grade iron ore deposits, demand for which is increasing as steelmakers look to reduce carbon emissions. Simandou broadens our global portfolio of iron ore products and complements the long-term attractiveness of our Pilbara Blend™.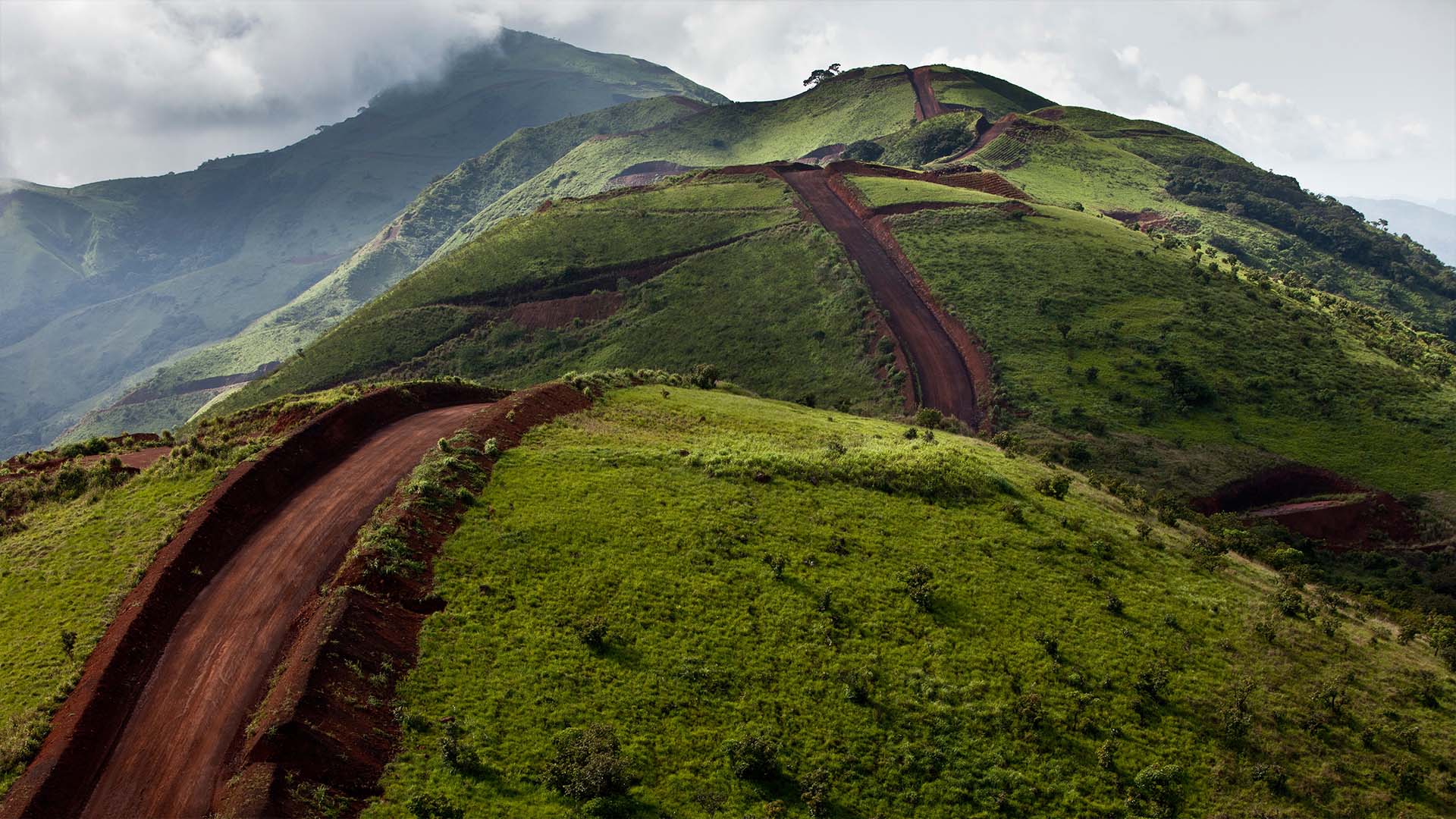 More

We remain committed to Simandou and to delivering its benefits to our partners as well as to local communities and the people of Guinea.

Activity at the mine is ramping up, with a focus on identifying opportunities to optimise costs and the construction schedule, and implementation of the Social and Environmental Impact Assessment (SEIA) continues. We are reviewing results from the infrastructure technical optimisation studies, and product test sample analysis is now underway. A new office was established in Conakry in the first half as we expand our in-country team.

The Simandou project operates under the Simfer joint venture where the Government of Guinea holds 15% and Simfer Jersey holds 85%. Simfer Jersey is owned by Chalco Iron Ore Holdings (CIOH) (47%) and Rio Tinto (53%). CIOH is owned by: Chinalco (75%), Baosteel Resources (20%), China Civil Engineering Construction Corporation (CCECC) (2.5%) and China Harbour Engineering Company (CHEC) (2.5%). This structure has been in place since 2017.

Rio Tinto and CIOH, which own 45.05% and 39.95% of Simandou, respectively, continue to work with the government of Guinea to explore options to realise value from the world-class Simandou iron ore deposit, as well as potential mechanisms for collaboration on infrastructure development.
Winu
Paterson, Western Australia
In late 2017, we discovered copper-gold mineralisation at the Winu project in the Paterson Province in Western Australia.
More

In July 2020 we announced the maiden Resource at Winu, as well as the discovery of a new zone of gold dominant mineralisation nearby. Drilling results at Ngapakarra, about two kilometres east of Winu, provide further encouragement about the potential to develop multiple orebodies in the district. We have explored only a small percentage of our tenements in the Paterson region of Western Australia so far, which includes both our 100% owned tenements and joint ventures.

We continue to actively engage with the Traditional Owners and we plan to commence discussions on the initial scope and mine design, also in consultation with the Western Australian Environmental Protection Authority. We are now targeting internal approvals in 2022 and first production in 2025, partly due to COVID-19 constraints. Drilling, fieldwork and study activities continue to progress.
Zulti South
Richards Bay Minerals, KwaZulu-Natal, SOUTH AFRICA
The Zulti South project remains on full suspension, pending normalisation of operations. We approved the $463 million investment (our share is $343 million) in April 2019 to sustain RBM's current capacity and extend the life of the mine.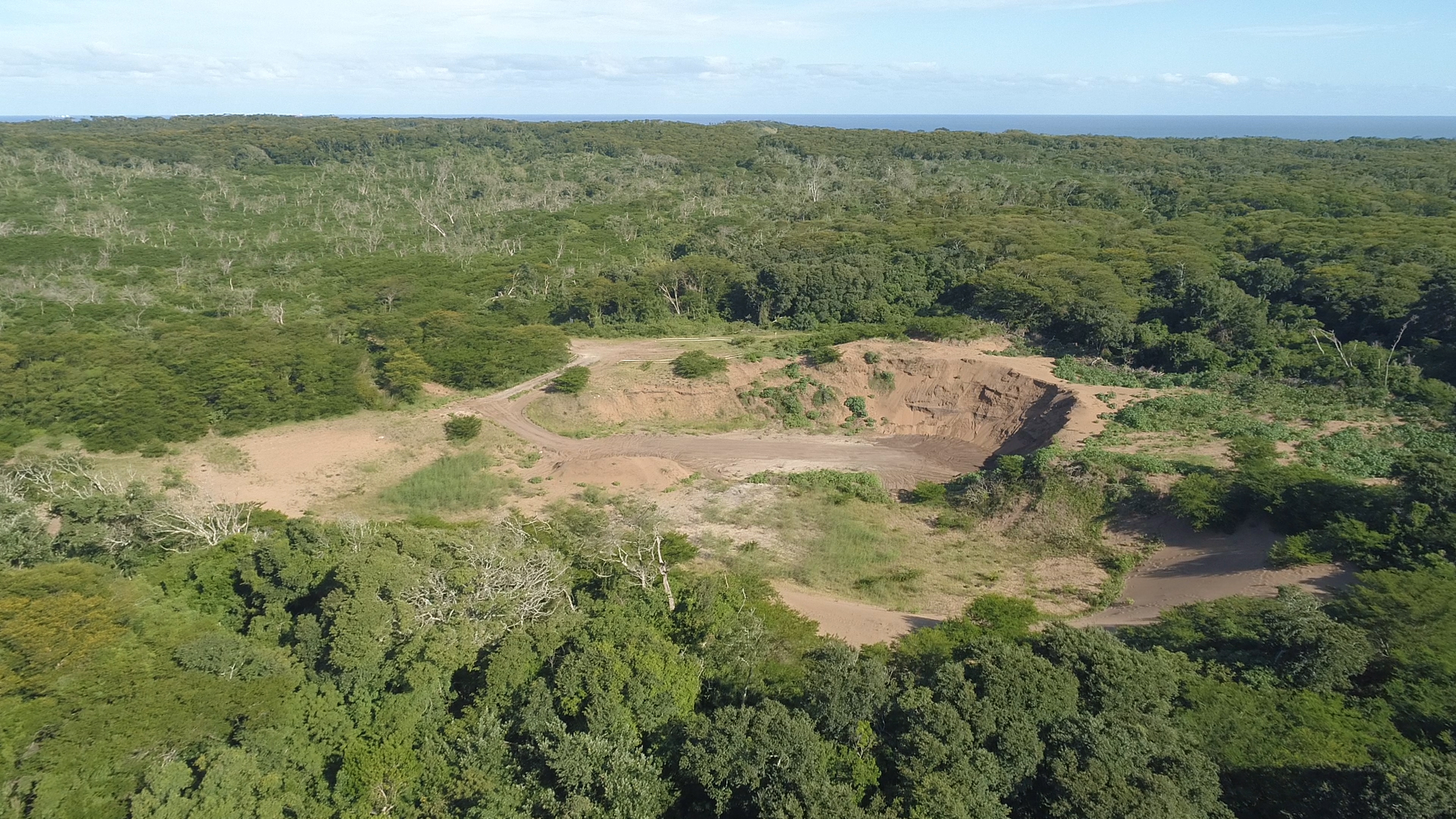 More

RBM currently operates four mines in the Zulti North lease area, a mineral separation plant and smelting facility. The Zulti South mine is expected to underpin RBM's supply of zircon and ilmenite.