Planting the future
When you're rehabilitating land, you work with the people who know it best
---
Meet Frances Whittle – animal lover, green thumb and proud member of the Land Management & Rehabilitation team at Rio Tinto's Weipa bauxite mine, in far northern Australia.
It can be tough work and you definitely get your hands dirty – and maybe other parts of your body too. But, Frances says, "I'm passionate about what I do – that's why I'm here."
Frances has an important job. She makes sure our mine leaves the smallest impact on the environment.
Frances and her team restore parts of the land back to nature, once mining stops. Just last year they grew 25,000 native plants from seed. And they planted 25,000 seedlings – baby trees – on 125 hectares. A year on, almost all of the seedlings planted are thriving.
"It means what we're doing is working. It's really important, because we want to make sure it's looked after properly for future generations," says Frances.
About Frances
Land Management & Rehabilitation, Weipa
Frances joined Rio Tinto as a haul truck driver in 2007, before moving into the Land Management & Rehabilitation team seven years ago.
More

For Frances, who is from the Torres Strait Islands, coaching local Aboriginal trainees is one of her favourite parts of her job.

For me, it's about giving something back because I'm working on their country.

- Frances Whittle, Land Management & Rehabilitation, Weipa

"I can pass on my knowledge so they can further their future and do what they want to do.

"And I learn from them too – about the land and their culture, and what it means to them."

That's why the team is working closely with local Aboriginal people as part of the mine's rehabilitation.

"We're working with people who live here, who work here, and who know this land – because it's their country.

"And by combining science with the unique knowledge of the local people, we can get the best result," Frances said.
In fact it's an essential part of the mining process.
Long before mining starts, our team does cultural and environmental studies to understand the area and look for ways to reduce any impacts. We can do this by avoiding an area, or by working with Traditional Owners to make sure heritage sites are looked after during mining.
Other times it's about making sure land is rehabilitated the right way afterwards. One of the ways we're doing this at Weipa is by working with Traditional Owners to understand how they use the region's plants – for medicine, food and ceremonies.
Then, as part of rehabilitation, the team makes sure those plants are grown in the right areas: "We make sure trees like the nonda plum – an edible native fruit – are planted in areas where local Aboriginal people gather and share stories," Frances says.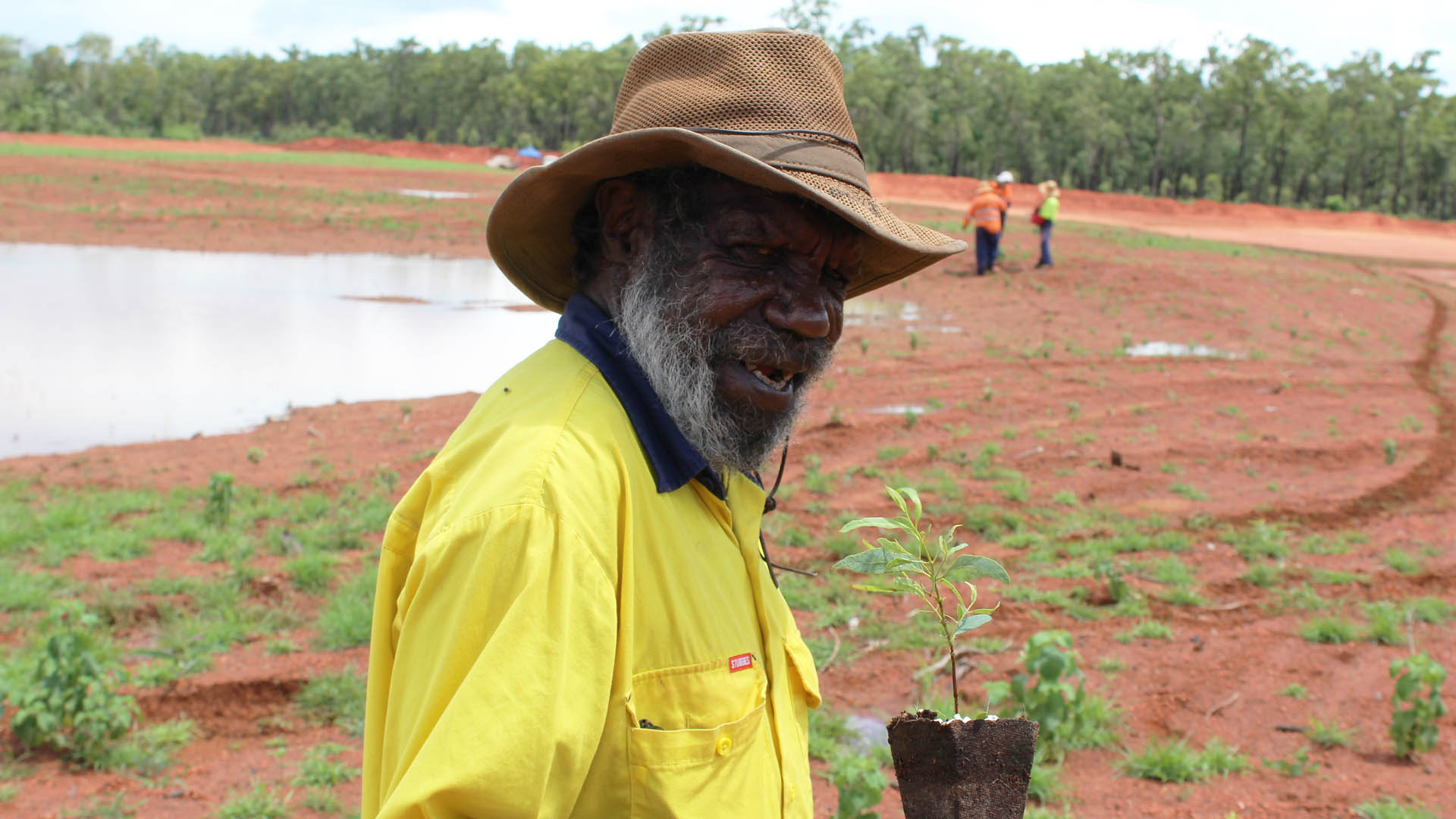 There's also the mine's seed collection programme. Last year, local Aboriginal people collected nearly 800kgs of native seed to help regenerate mined areas. It's a source of income for collectors, and gives families an opportunity to work together on country and pass on knowledge to the next generation. And it gives Frances's team a source of local seeds to grow native plants.
"Aboriginal people have a strong spiritual connection to the land. And so it's important they have a hand in the regeneration – that they can be part of it," Frances said.
Science, nature and ancient knowledge all working together. That's one way we define progress.