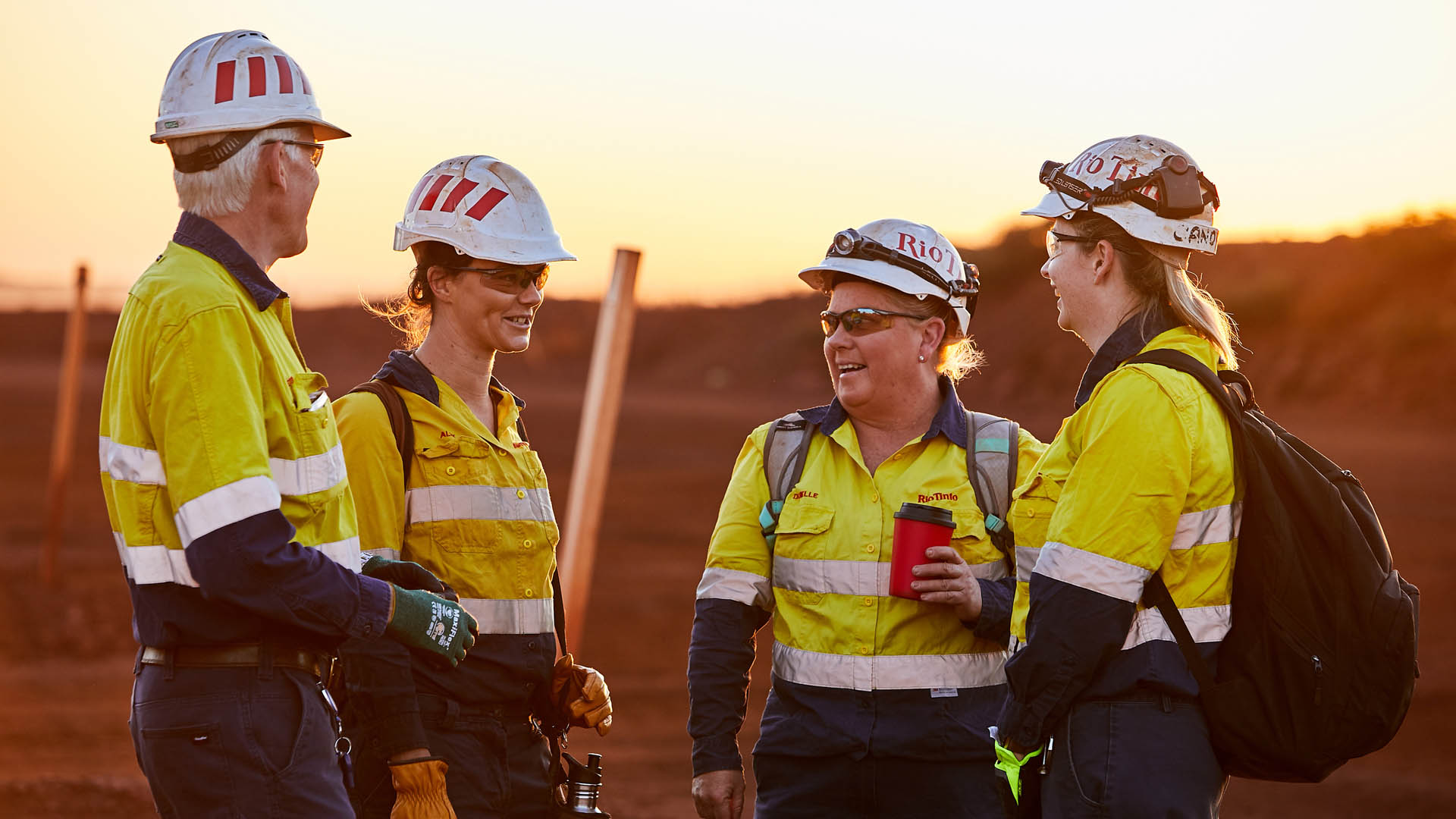 We are curious and creative, ingenious and hard-working. We are pioneers – exploring the boundaries of everything we do. The materials we produce are essential to human progress, and we see that progress driven by our people.
At home and at work, we promote a healthy and balanced lifestyle and are paying more attention to mental health. We also know that people are at their best when they can be themselves, so we foster a culture where every voice is heard, every idea is encouraged and everyone is supported. We aspire to an environment in which the aspects and dimensions of diversity reflect the communities in which we operate.
Our values
Our values – care, courage and curiosity – guide how we work and how we treat each other.
Care: for people, for the communities in which we operate and for our environment

We act with care by prioritising the physical and emotional safety and wellbeing of those around us. We respect others, build trusting relationships and consider the impact of our actions. We look for ways to contribute to a better future for our people, communities and the planet.

Courage: to try new things, speak up and do what's right

We act with courage by showing integrity, speaking up when something is not right and taking decisive action when needed. We are not afraid to try new things. We respond positively in difficult situations and demonstrate commitment to achieving shared goals.

Curiosity: to collaborate, learn and innovate

We act with curiosity by inviting diverse ideas and collaborating to achieve more together than can be done alone. We are continuously learning, creatively looking for better and safer ways of doing things. We draw inspiration from others and the world around us.
Safety
Nothing is more important to us than the safety of our employees and contractors.
Our goal is zero fatalities: we want everyone to return home safely at the end of the day, every day. That means not only our employees, but also our suppliers and local communities. We work to keep them safe and healthy by managing risks, promoting a safety-first culture, focusing more and more on health and using automation to remove people from high-risk work. We also believe safety does not begin and end at work and have taken steps to stop violence against women, with industry-leading programmes in Australia and North America to end family and domestic violence.
Inclusion & diversity
We are committed to an inclusive environment where people feel comfortable to be themselves. We want our people to feel that all voices are heard, all cultures respected and that a variety of perspectives are not only welcome – they are essential to our success. We treat each other fairly and with dignity regardless of race, gender, nationality, ethnic origin, religion, age, sexual orientation or anything else that makes us different.
We also aim for a diverse workplace – not just because it is good for our business, but because it is the right thing to do. We employ people on the basis of job requirements and do not discriminate on any grounds. We do not employ forced, bonded or child labour. We employ people with disabilities and make considerable efforts to offer suitable alternative employment and retraining to employees who become disabled and can no longer perform their regular duties.
We are not where we want to be on gender diversity, so we have established clear targets to improve the number of women in our organisation, at all levels. We have rolled out a global policy for gender-neutral parental leave and revised our policy on inclusion and diversity to reinforce our expectations around behaviours and personal accountability. Our goal is to increase women in senior management by 2% each year, and for our graduate intake to be 50% women, with 30% from places where we are developing new business. In 2021, we will expand our gender diversity targets beyond women in leadership to women at all levels of the organisation.
We are also a Founding Member of the Champions of Change Coalition, a group established to elevate gender equality.
To meet the dual challenge of increasing diversity and evolving our work environment to welcome diverse voices and perspective, we are investing $50 million to increase Indigenous leadership across our business in Australia. And we will continue to work on broader employment pathways such as entry level opportunities, career readiness programmes and school to work pathways in order to achieve our target of 8% Indigenous participation.
Everyday respect taskforce
Everyone should feel respected, safe and included at work. In March 2021, we launched our Everyday Respect Taskforce to improve how we prevent and respond to sexual harassment, bullying and racism at work.
We have held listening sessions across the business to allow employees to share their experiences and suggestions to ensure that we are providing a safe working environment that is free from sexual harassment, bullying and racism. Addressing these issues will, over time, contribute to a more inclusive and supportive work environment and help improve retention for both women and men from all backgrounds and abilities.
2020 has been a challenging year for all of our stakeholders, including our employees, as COVID-19 significantly altered our ways of working. Still, our employees told us they were proud to work for a business considered essential during a global pandemic.
The destruction of the rock shelters at Juukan Gorge shocked and deeply disappointed many of our employees. We recognise we must do better – and that doing better must begin with creating an environment in which everyone feels comfortable speaking up.
In August-September 2020, we conducted virtual employee focus groups across our business, in which almost 1,000 employees participated – 72% were site-based and 28% were from our corporate offices. These focus groups, which included employees from a variety of backgrounds and perspectives – diverse by gender, ethnicity, location, age and length of service, and with a particular focus on underrepresented groups – revealed that employees view Rio Tinto as an industry leader and appreciate the genuine care they feel from their colleagues. However, employee pride has been eroded, particularly in Australia, due to our destruction of the Juukan Gorge rock shelters. And while our employees appreciate our response to COVID-19, life for many is becoming more difficult as the pandemic wears on.
Our employees also said we need a stronger message on sustainability, which is a focus of our new Chief Executive. This includes what sustainability means to us as a business; on matters of inclusion and diversity, they told us we need to take more meaningful action. Partly as a result, we are expanding our diversity targets to include our entire workforce – targeting a 2% increase in female representation – and investing $50 million to increase Indigenous leadership across our business in Australia.
Some of these themes were also mirrored in our annual People Survey employee engagement results, which included more than 64,000 written comments from more than 26,000 employees (a 57% response rate). We were pleased to see a one point increase in our employee Net Promoter Score (eNPS) over the past year. Our employee satisfaction score also increased by one point. This is the sixth consecutive increase, so while we must do better, we also know there are many strengths of which we can be proud and on which we should continue to build.
Our employees continue to share in the success of our business: one way is through myShare, our all-employee global share purchase plan. The number of employees that buy Rio Tinto shares through myShare is today at its highest level, having increased 13% this year; more than 22,000 employees actively contribute every month, with 13,000 contributing the maximum permitted. We have participants in 30+ countries, with 94% in Australia, Canada, the US, Mongolia and South Africa. On average, employees purchase shares worth $14 million each year, and participants hold more than $600 million of shares within their myShare plans (comprising shares bought with their own contributions plus matching shares and shares bought through dividends).
We continued to invest in skills development throughout 2020. We launched LinkedIn Learning – an online learning tool, providing access to more than 16,000 courses on a wide range of topics and skills. To date, more than 11,000 employees have accessed training on the platform, consuming more than 22,000 hours of content. We are also investing in our critical capabilities: this year, 29 people were formally recognised as technical RioExperts bringing the total number to 77. Of these, 23% are women. Our flagship commercial fundamentals programme continued to be deployed virtually. Leadership development also transitioned to virtual, prioritising the development of our leaders to become effective coaches and encourage teams to contribute their full potential. Our average learning hours per employee increased from 25.6 in 2019 to 27.7 in 2020.
Employee engagement and satisfaction in numbers
One-point increase in our employee net promoter score (eNPS*) from 2019
One-point increase in employee satisfaction score (eSAT**) from 2019
One-point increase in our recommend score from 2019
*eNPS is a measure of "how likely an employee is to recommend Rio Tinto to a friend or colleague". It is calculated by subtracting the proportion rating 0-6 from the proportion rating 9 and 10 (on a 0-10 scale).
**eSat is a measure of "how happy an employee is to work at Rio Tinto". It is calculated by averaging the responses on the 1-7 scale and expressing this out of 100.
Pay equity
We seek to provide competitive pay, delivered through fair and non-discriminatory pay practices and processes. We are committed to ensuring that employees with similar skills, knowledge, qualifications, experience and performance are paid equally for the same or comparable work. In 2020, we continued to evolve our remuneration to eradicate bias and otherwise enhance the transparency and robustness of our decision making.
Our pay equity statistics (ie 'equal pay gap' and 'gender pay gap') are integral to our monitoring of employee pay; they guide pay decisions and investment during our annual remuneration review. The statistics are affected by gender representation across our organisation (we employ more men than women). We remain focused on improving female representation at all levels.
Our equal pay gap measures the extent to which women and men, employed by our company in the same location and performing work of equal value receive the same pay. In 2020, the equal pay gap decreased marginally, compared to 2019, and remains less than 2%. The equal pay gap is the primary lens we use when assessing progress against our ambition to eradicate bias.
Gender pay is a measure of the difference between average earnings of women and men across the Group (excluding incentive pay), regardless of role, expressed as a percentage of men's earnings. In 2020, our gender pay gap was just over 1% in favour of women (in 2019, it was less than 1% in favour of men). While part of this positive shift is attributable to decisions made to reduce the gap, it is also a reflection of the drop in average earnings for men this year through movements (attrition, recruitment and promotion) and the fact that fewer women are in lower-paying roles in our operational workforce.
A key area of focus in 2021 will be equity statistics as we look to extract added insight. We want to expand the suite of statistics we use and find indicators that provide insights, on both a lead and lag basis, to help close any remaining gaps – and prevent new ones.
Diversity
We aspire to an environment in which the aspects and dimensions of diversity reflect the communities in which we operate.
We employ people on the basis of job requirements and do not discriminate on any grounds. We do not employ forced, bonded or child labour. We employ people with disabilities and make considerable efforts to offer suitable alternative employment and retraining to employees who become disabled and can no longer perform their regular duties.
Our graduate programme continues to help us bring new perspectives into the organisation. This year, we increased our proportion of female graduates – by 6% – to 60%. In Australia, 8% of our graduate intake and 9% of our vacation student programme were Indigenous. We continued to offer scholarships, hire vacation students and graduates throughout the pandemic, leveraging virtual campus recruitment and development.
The overall percentage of female employees increased marginally – by 0.6% – to 19%. Our focus on women in leadership has increased the proportion of women in senior management roles – by 3.5% – to 26.1% and women in management by 2% to 29.4%. We continue to focus on the representation of women across all levels and in all disciplines. For example, at our Pilbara iron ore operations in Western Australia, this year we launched our 'Pathways to Mining' recruitment campaign, which aimed to recruit 100 women – including those without mining experience – for site-based operational roles and traineeships. The response to the campaign exceeded our expectations, attracting over 2,500 applications, which are currently being assessed for roles ranging from trade assistant to plant, laboratory, and drill and blast operator.
As noted earlier in this section, in 2021, we will expand our gender diversity targets beyond women in leadership to women at all levels. The dual challenge of increasing diversity and evolving our work environment to welcome diverse voices and perspectives will require significant and sustained effort across the organisation. To that end, we have also committed $50 million over five years to advance Indigenous leadership in our business across Australia. And, as part of our ongoing commitment to our signatory Traditional Owner groups, we will continue to work on broader employment pathways, including entry level opportunities, career readiness programmes, school-to-work pathways, apprenticeships and other local employment programmes and activities. Our goal is to achieve a target of 8% Indigenous participation across our business in Australia.
A note on 2021 reporting
For 2021 reporting, the definition used to calculate diversity will be changed to include people not available for work due to extended leave for reasons such as parental leave and contractors (those engaged on temporary contracts to provide services under the direction of Rio Tinto leaders). This will mean our 2021 targets will be re-set to a slightly higher baseline.
Regional Distribution of Workforce
Product Group Distribution of Workforce (2014-2018)
2020 figures. Total workforce refers to managed operations.
$50 million to attract, retain and support the development of Indigenous employees across Australia
We are:
Changing our hiring practices by focusing on an Indigenous candidate's potential, not their mining experience.
Introducing a cultural onboarding programme to ensure leaders have the skills they need to support Indigenous employees.
Pairing Indigenous employees with senior leaders and providing career coaching for employees while also developing leaders' cultural competence.
Supporting employees' growth and development by identifying skill gaps and working with each employee to create a career plan, including further education.
Growing cultural competency through cultural awareness training, and where possible, cultural immersion opportunities on Country or through working directly with Indigenous businesses and organisations.
Working at Rio Tinto
We produced the world's first certified responsible aluminium. We were the first mining company to embrace Indigenous peoples' land rights in Australia. And we created one of the world's biggest robots – and maybe one of the smallest. But we always want to do more.
Working at Rio Tinto means touching people's lives: from exploring new materials to finding ways to tackle climate change. We value curiosity, creativity, innovation and hard work. We work in some of the most remote, beautiful places in the world – like the Northwest Territories in Canada and Weipa in Far North Queensland, Australia – as well as in major metropolitan hubs like Montreal, Perth, Brisbane and Singapore.
We know that work is changing and we are changing with it. We partner with governments and institutions to ensure that our people and communities have the skills they need throughout their careers.
For example, in 2019 we announced the Future Minds Accelerator programme, a A$10 million, four-year partnership focusing on skills for the digital future with leaders in Australia's education and innovation sectors, including leading start-up accelerator BlueChilli and Amazon Web Services. In 2020, the programme engaged 100,000 Australian children, focusing on skills such as critical thinking, problem solving and automation. In addition, it provided training and professional development opportunities for 2,700 teachers and engaged more than 1,000 schools, helping drive interest in digital skills among students. The programme also helped the participating start-ups grow their businesses, creating 32 new jobs.
And in Western Australia, 28 high school students participated in the Certificate II in Autonomous Workplace Operations programme, the first nationally recognised automation qualification in Australia, which we launched in partnership with South Metropolitan TAFE (a technical and further education institution). The course, which launched in 2019, is designed to provide participants with the knowledge and skills needed to succeed in the resources industry of the future.