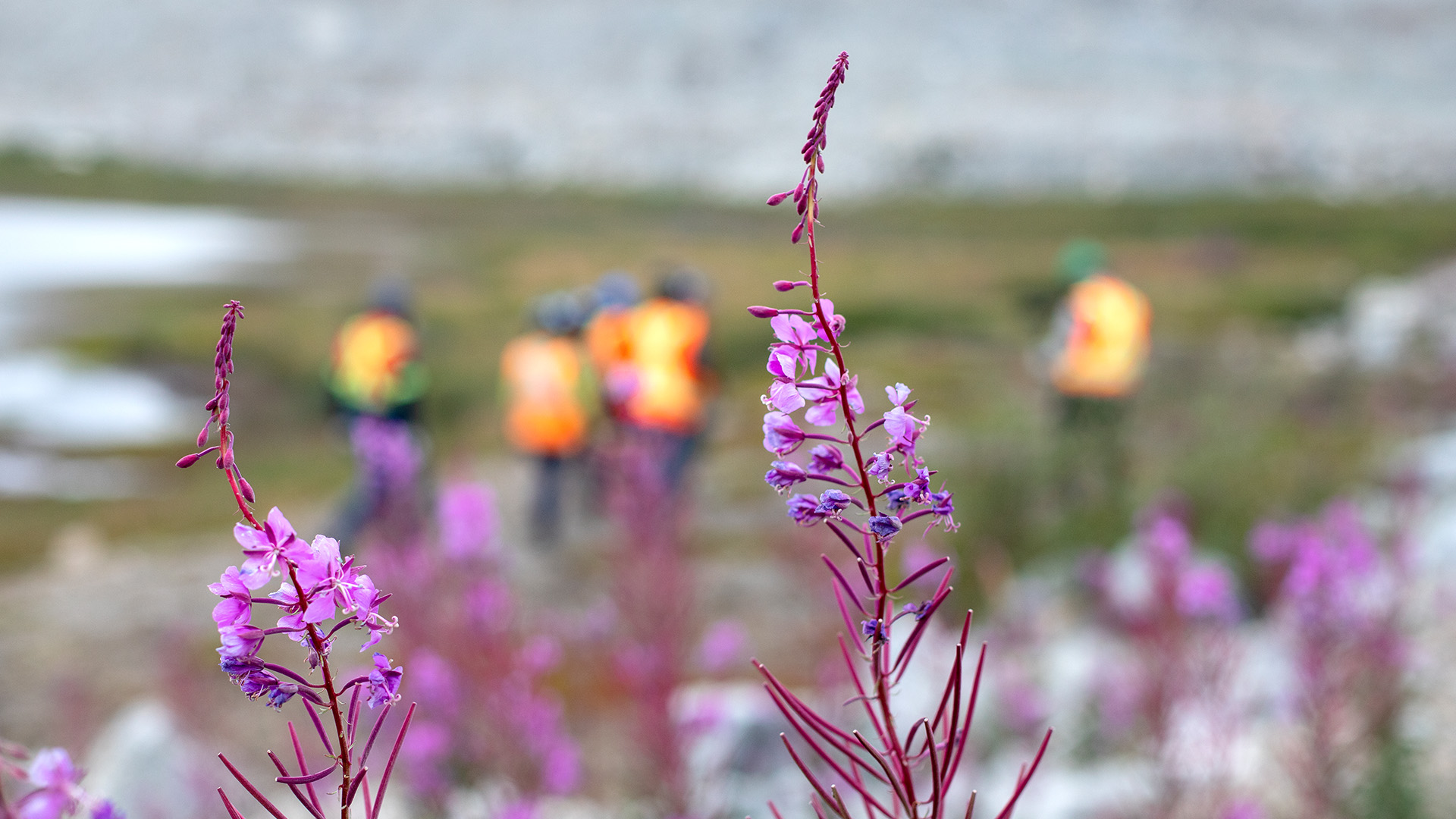 Commitments are formalised through individual participation agreements with the Tlicho Government, the Yellowknives Dene First Nation, the North Slave Metis Alliance, the Kitikmeot Inuit Association, and the Lutsel K'e Dene First Nation.
We also have a socio-economic monitoring agreement with the Government of the Northwest Territories, which was signed by Indigenous partners.
Keeping each other safe
COVID-19
Updated: February 2021
We are taking action to help keep our employees, contractors and communities safe at our operation in the Northwest Territories, Canada.
We continue to proactively implement measures to reduce transmission of COVID-19 on our site, including mandatory COVID-19 testing, health screening (eg phone calls with medical professionals prior to travel), enhanced hygiene and physical distancing measures, roster and flight changes, and the use of masks.
We are following the guidance of the Chief Public Health Officer of the Northwest Territories and the Public Health Agency of Canada, and we are working closely with our community and government stakeholders.
Our priority is the health and safety of our employees and our communities. We recognise that these are unprecedented circumstances and have taken significant steps to protect against the risk of COVID-19 on our site and in our communities.
Richard Storrie, President and COO, Diavik Diamond Mine
Here are some of the measures we are taking to help protect our employees, contractors, suppliers, customers and community:
Health assessments
Personnel are required to practice physical distancing and self-monitor for symptoms prior to travelling to Diavik. Everyone completes self-monitoring forms, and those who are unwell are asked not to come to work.
Within five days of scheduled travel, leaders connect with employees and contractors, usually by phone, to review any new requirements and confirm their adherence to distancing and monitoring requirements.
Within three days of scheduled travel, employees and contractors call a health assessment hotline to speak with a medical professional and complete a health screening and symptom check. Everyone must receive clearance from the hotline before arriving at airports.
A second health screening is performed at all airports prior to boarding.
Personnel keep detailed records of all close contacts in the days leading up to travel and while on site to aid contact tracing efforts.
Rapid antigen testing
All personnel undergo a rapid COVID-19 antigen test at flight centres, prior to boarding flights to the mine.
Results are received within 15 minutes, allowing medical professionals to identify and isolate presumptive positive cases.
Travel
Charter flights fly directly from points of pick up across Canada to eliminate the use of commercial flights. Flights that originate in the south do not stop anywhere else in the Northwest Territories and only land at Diavik.
We require all employees to use facial barriers or masks from leaving their homes until three days after they arrive at Diavik.
COVID-19 testing on-site
We have established an on-site laboratory to test our workforce for COVID-19 using nasopharyngeal swabs (polymerase chain reaction (PCR) testing).
Our on-site lab allows us to collect and process samples in the most efficient way and provides a precautionary measure to protect the health of our employees and Northwest Territories communities.
Presumptive positive results from our on-site testing are sent to the Stanton Territorial Lab for confirmation.
All employees are tested when they arrive at Diavik, on days three and six of their rotation, and again before departure.
Temporary clinic and isolation area
In addition to the existing medical facilities, a dedicated COVID-19 clinic and isolation area is available in our South Camp.
We have built three rooms with their own washrooms for COVID-19 positive personnel.
We also have a dedicated dorm as an isolation ward to support personnel who have been exposed to people who have COVID-19 symptoms.
Employees who are placed in isolation have access to a medical team at all times, have their vitals checked every day and are more frequently tested.
Our support team provides them with meal delivery and helps address any other needs they may have.
Physical distancing
Whether working, eating or exercising, employees keep their distance:
We have limited face-to-face meetings and encouraged the use of digital tools like Teams to reduce physical meetings and travel between buildings.
During meal times, we have physically separated the dining hall to allow for flow of traffic and distancing between people.
Gymnasiums and common exercise areas have been closed or modified to prevent cross contamination and allow for at least two metres of separation.
C$8.5B
Economic contribution
C$370.6M
Local procurement
C$383.5K
Community investment
2019 figures. Economic contribution figure is for period 2000 - 2019.
Community Contribution Programme
Community Contribution Programme
Aimed at serving and strengthening the communities of the Northwest Territories and West Kitkimeot, we provide support through our community contribution programme. The key priority areas of the programme are:
Business capacity building (business and educational development)
Health, safety, and wellness
Culture, arts, and community pride
The projects funded by our Community Contribution fund focus on improving the quality of life for residents of the NWT and West Kitikmeot regions.
If you have a project you would like our Community Contribution Committee to consider for funding, please download the application and submit to DiavikCommunities@riotinto.com.
We also contribute to local communities through in-kind volunteering and participating in the communities, including our five local participation agreement groups.
Scholarships
We provide financial assistance for northerners pursuing their education goals through a variety of scholarship programs.
We support a scholarship fund (with three annual scholarships) at the Yellowknife Community Foundation and, in 2018, funded a new scholarship for women in the NWT and Kitikmeot region to pursue post-secondary education in science, technology, engineering and math programs.
We also support scholarships for students nominated by P.W Kaeser, Diamond Jenness Secondary School, St. Patrick High School, and Ecole Sir John Franklin High School who are entering post-secondary studies. And there are two Diavik scholarships available at Aurora College, with a focus on the Environment and Natural Resources Technology Program.
Applications for our two scholarship programs, Children of Diavik Employees and Post-secondary Scholarships, are accepted annually in August. Application forms can be accessed here.
Additionally, through our Participation Agreements (PA), we are providing scholarship funds to our PA partners to administer for their members.
Sourcing locally
In 2019, we continued to focus on partnering with Northern businesses and, in so doing, ensured major benefits flowed to local firms, many of which are Indigenous. For example, 74% of our spending, or C$370.6 million, was with Northern businesses – an increase over the C$321.9 million spent with northern companies in 2018.

Of this 2019 northern spend, C$166.7 million was with northern Indigenous businesses – an increase over the C$158.4 million spent in 2018.
Cultural heritage
Diavik operates in one of the world's most untouched and ecologically sensitive environments. Vast tundra surrounds the mine and it is home to bears, wolverine, and migrating caribou. The waters of Lac de Gras are pure and teeming with fish and bird life.

Over one-third of the Northwest Territories is covered by lakes and rivers and in spite of its apparent abundance water is considered a precious resource, especially by Indigenous peoples. It provides habitat for much of the wildlife that is critical to the traditional lifestyles of local communities.

For example, caribou play a key role in Indigenous culture and spirituality and it remains a staple in the diets of many Indigenous people. These and other environmental factors were carefully taken into account to ensure Diavik has minimal environmental effects and the operation meets the needs of local communities.
Traditional knowledge
Diavik engages with local Indigenous communities and its environmental monitoring programmes include incorporating traditional knowledge from local communities.

For example, the mine's aquatic effects monitoring programme was designed by community members to evaluate fish health and water quality using traditional indicators. As part of this programme, which is based from a seasonal camp near the mine site, fish are caught, cleaned, inspected, cooked, and tasted. Water is inspected, sampled, boiled, and tasted. Participants share traditional knowledge of the Lac de Gras area and record their observations of the fish and the water. The initiative was documented and a video, titled We Fish Today, For Fish Tomorrow, has been produced. Results from both scientific and traditional knowledge observations indicate the present status of fish and water in Lac de Gras is good.

Land agreements
We are committed to ensuring local communities benefit from the sustainable development of its mine and these commitments are formalized through individual participation agreements with the: Tlicho Government, the Yellowknives Dene First Nation, the North Slave Metis Alliance, the Kitikmeot Inuit Association, and the Lutsel K'e Dene First Nation.

We have entered into an Environmental Agreement with local Indigenous groups, and federal and territorial governments. Concluded in March 2000, the agreement formalizes Diavik's environmental protection commitments, establishes reclamation security requirements, and provides transparency and oversight to local communities. Through this agreement, we established an Environmental Monitoring Advisory Board to provide advice and oversee environmental issues with representatives from our Indigenous communities.

As part of Diavik's local commitments under the Socio-Economic Monitoring Agreement, Indigenous people and northern residents receive hiring priority. We are committed to achieving at least 40% Indigenous employment at Diavik, and at least 66% Northern employment including our contractors. This commitment is formalised in the socio-economic monitoring agreement with the Government of the Northwest Territories and Indigenous signatories.