Whatever our activity – mining, processing, hydroelectric power generation, or moving our supplies and products around the globe – we consider the potential to harm the environment through pollution. Our on-site environmental scientists work closely with our process safety and plant engineers, water and waste management experts and others, to manage our systems and processes to prevent harmful discharges or releases to the environment.
We comply with local and state regulations for emissions from our operations such as waste management, water discharge and air emissions. And we also apply our own standards, which outline requirements to define, monitor and manage emissions at our managed operations. These standards also require us to set performance requirements for resource efficiency, particularly relating to mineral and non-mineral waste management.
We actively contribute to sustainability initiatives across the value chain through our work with peers, industry associations, and customers. And we continually improve our due diligence mechanisms and assess the environmental performance of new suppliers and customers.
Waste
We try to minimise our impact through careful waste management, including mineral waste such as waste rock, slag and tailings, and non-mineral waste such as used oil, office and processing waste.
We do this across our operations in many ways.
From waste to soap
For example, at our Oyu Tolgoi operations in Mongolia, 40-50% of waste materials are diverted from the waste management centre through re-use and recycling programmes. Not only is this reducing the volume of materials going to the landfill (prolonging the operational life of the waste management centre landfill cells) but it is also supporting Mongolian communities and industries. Waste oil is treated for reuse as lubricants, waste plastic is recycled into plastic pellets for reuse in the manufacturing of other products, and plastic pellets are converted into packaging and medical sharps containers. The end product of kitchen waste cooking oil is purified by a local company and used to make soap.
Making batteries from rock
For the past 90 years, we have been mining borates at our mine in the Mojave Desert in California, US. Borates are important minerals for fibreglass, fertiliser and the glass of your smartphone screens. The waste rock from borates mining is stockpiled on site. After investigating the stockpiled waste rock from borates mining material to understand its potential value, our team at Boron found high grades of lithium. Plans are now underway to build a demonstration plant that will extract the lithium from waste rock – helping reduce waste while also creating another product stream.
Using waste from aluminium processing to grow blueberries
For more than a decade, we have had a dedicated team – including scientists, and marketing logistics experts – whose job has been to find value from the 350,000 tonnes of non-bauxite residue by-products we produced every year from our aluminium operations in Quebec, Canada. Currently, 85% of this is used to make new products. For example, we have turned anhydrite, a by-product from our Vaudreuil alumina refinery in Canada, into a safe and effective fertiliser for local blueberry growers.
A new way to make cement
In 2020, we announced that we are working with Geocycle Canada and leading construction materials company Lafarge Canada to reuse waste from the aluminium smelting process to make cement. This new product – called Alextra – is made from used potlining, as part of the aluminium electrolysis process that would otherwise go to landfill. Alextra is the result of years of research and development, aimed at finding new ways to deliver sustainable outcomes and value from used potlining. Lafarge Canada will produce on average one million tonnes of cement a year at its facilities in Bath, Ontario, using Alextra as an alternative to raw materials such as alumina and silica, which are commonly refined or mined for use in the manufacturing of cement.
As a global leader in building materials, we are committed to living up to the responsibility of helping to create a zero-waste future. In order to achieve this goal, we need progressive partners such as Rio Tinto."
- Travis Smith, Geocycle Canada
It is not always possible to reuse or recycle waste, so we continually develop technology and build facilities to manage it in ways that minimise adverse environmental and community impact, disposal costs and future liabilities.
2016: At our Vaudreuil alumina refinery in the Saguenay, Canada, we implemented a two-phased project to overcome technical, environmental and social challenges and ensure the refinery could continue to operate in the future. Following public consultation, we built a new facility to filter and reduce the volume of bauxite residue waste at the existing storage site.
2017: Our development of a drilling waste removal system was awarded a certificate of merit in Western Australia's 2017 Golden Gecko Awards for Environmental Excellence. This award recognises leading practice and innovation in environmental management and provides an opportunity to share experiences between government, industry and the community.
2018: Our Iron Ore Mineral Waste Management team won an International Network for Acid Prevention (INAP) Best Practice award: "Pilbara operations exemplify global best practice and deserve international recognition".
In 2020, we reused or recycled approximately 357,000 tonnes of non-mineral waste, and nearly 14 million tonnes of mineral waste. We have rigorous controls and monitoring programmes in place to prevent and mitigate the potential harmful impact of acid and metalliferous drainage (AMD) potentially generated by approximately 28% of our mineral waste through reactions with air or water.
357,000 tonnes Non-Mineral Waste Recycled or Reused
13,830,000 tonnes Mineral Waste Recycled or Reused Offsite
3,629 km² Land Disturbed
491 km² Land Rehabilitated
This year we also teamed up with Geocycle Canada and leading construction materials company Lafarge Canada to work together to make Alextra, a new cement product using waste from aluminium smelting. Through our partnership, Lafarge Canada will make around one million tonnes a year of cement using Alextra.
Management of Mineral Waste
Management of non mineral waste
Management of Mineral Waste
Reuse/recycle end use activities for non-mineral bulk processing materials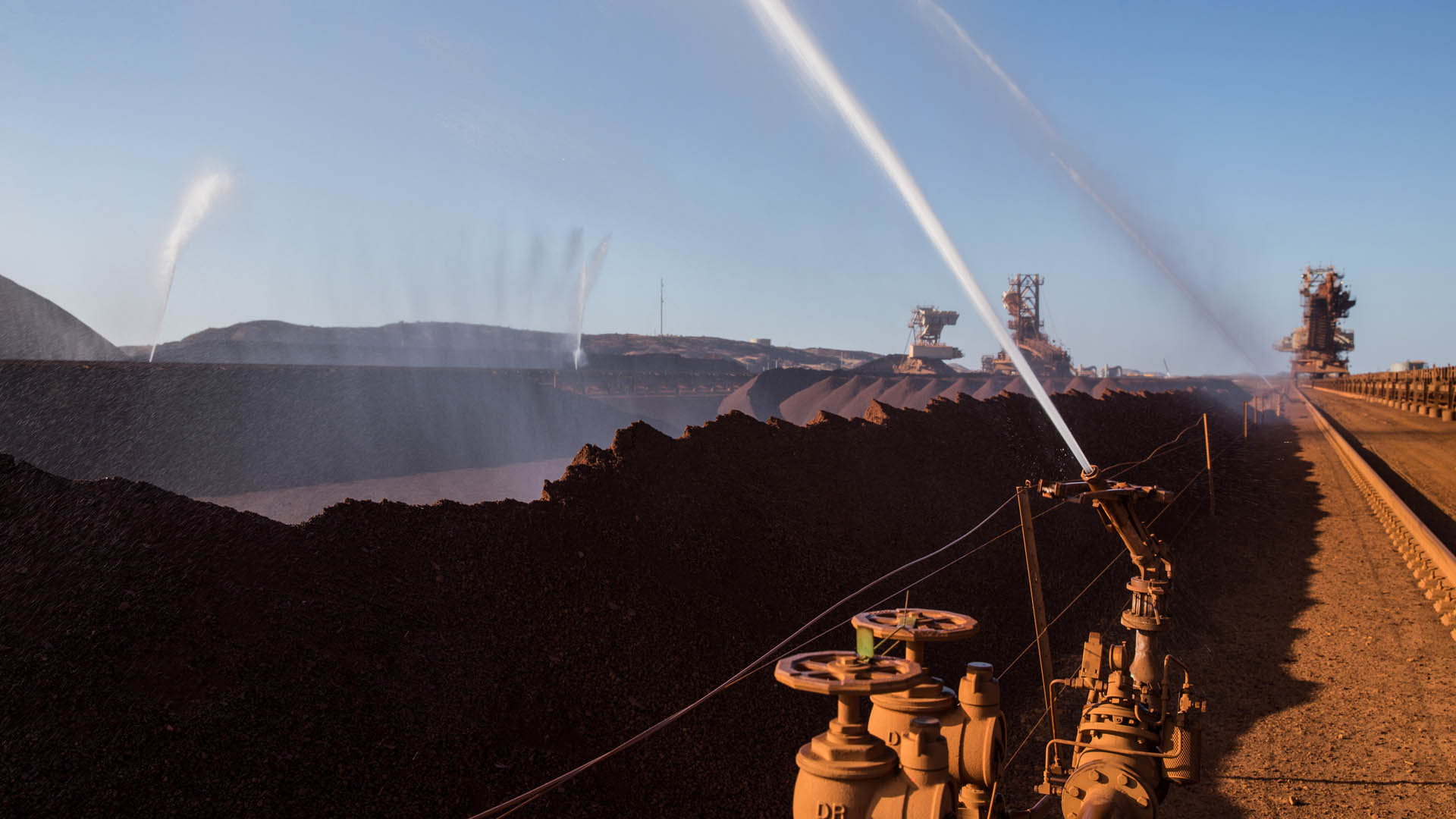 Emissions and air quality
Like water, air is a shared resource with the potential for any impacts to extend well beyond the boundaries of our operations. We are therefore committed to mitigating air quality impacts.
We comply with local and state regulations to protect air quality, and we also have our own air quality protection standard. This outlines requirements for how to monitor and manage air emissions at our managed operations. It also provides the framework to prevent, or otherwise mitigate effects that our activities could have on host communities and the environment. To do this, we work to understand our emissions and potential impacts, control emissions at their source, and implement strategies to deal with adverse conditions.
Some of our processing facilities have been in operation for more than half a century and we have begun developing an improvement programme for these sites and will report on progress.
Mining processes, such as the use of fossil fuels, moving ores, waste streams, and smelting metals release gases and particulates into the atmosphere. The major air emissions from our operations are:
Greenhouse gases, predominantly from the generation of electricity, combustion of fuel, and the production of aluminium
Sulphur oxides (SOx), mainly at our aluminium and copper smelters and coal and fuel oil fired power stations
Nitrogen oxides (NOx) from burning fossil fuels
Particulate and gaseous fluoride emissions from aluminium smelters and, to a lesser extent, from processes that use coke and coal
Particulate emissions less than ten micrometres in diameter (PM10) in dust associated with our mining activities
We monitor and control air emissions where we operate. Our site-based monitoring includes tracking and reporting air quality parameters at intervals related to the type of emission risk, and the requirements of stakeholders and regulators. We use this data on a continual basis to ensure mitigation and control systems are working as expected and to make adjustments where necessary.
Reducing greenhouse gas (GHG) emissions
We have publicly acknowledged the reality of climate change – and its potential to affect our business, communities where we operate and the world.
We help address the climate change challenge not just by managing our own footprint – we have reduced our Scope 1 and Scope 2 GHG emissions by 3% since 2018 – but also by working in partnership with universities, companies and governments on research and development of new technologies, such as ELYSISTM, to reduce emissions across the value chain.
Finally, many of the minerals and metals we produce are used in wind turbines, solar panels, electric vehicles and batteries, thereby playing an important role in the transition to a low-carbon future.
We continued to reduce dust across our operations, in line with our Air Quality Protection Standard. We are also committed to reviewing and implementing additional ways of increasing energy efficiency and reducing emissions throughout our operations.
Key actions
Kitimat, British Columbia, Canada
Since 2013, we have monitored and evaluated the potential effects of sulphur dioxide (SO2) emissions from our modernised Kitimat smelter in Canada.
In 2020, a comprehensive review report was completed to assess the methods and results from the previous six years of this Sulphur Dioxide Environmental Effects Monitoring Programme.
The report – prepared by Qualified Professionals (QPs) and the British Columbia Ministry of Environment – evaluated concentrations of SO2 data gathered through the modelling and monitoring activities in the Kitimat Valley. The report found no evidence of harm from the smelter emissions to people, vegetation, soils and water ecosystems, and the QPs do not see signs of harm in the valley based on the six years of monitoring work.
Through all of the analyses, discussions and results of the comprehensive review, the QPs are confident in these conclusions and recommend going forward with a more consolidated, efficient environmental effects monitoring programme, including some adjustments to the KPIs for vegetation, soils and surface waters.
Gudai-Darri (Koodaideri), Western Australia
In an industry first, we are making dust suppression safer, more precise and sustainable at Gudai-Darri. In partnership with Caterpillar, we are developing autonomous water carts to manage potential dust emissions from our operational activities. This work began in 2020, with initial trials expected in July 2021 – we plan to have three fully commissioned autonomous water carts by the end of the year.
Water carts, currently manned, are used at major mines to suppress dust and assist with haul road integrity. They traverse the mine ensuring that haul roads are kept to a correct level of saturation – however, they are also a potential source of safety incidents.
By utilising autonomous vehicles, we are working to eliminate the risk of vehicle accidents on our sites. The autonomous cart will automatically drive around the mine, keeping track of where it has dispensed water, how quickly it evaporates and identifying when and how much water needs to be put down next. When water gets low, the cart will drive to the refill point and refill itself automatically. This will ensure that just the right amount of water is added to the road surface to reduce dust.
Additionally, this project will also help manage the mine's water resources and minimise interruptions to the productivity of our autonomous truck fleet.
Iron Ore operations, Pilbara, Western Australia
In 2020, we implemented a number of engineering controls across our Pilbara mines and ports to reduce dust exposure to our employees and contractors, as well as the risk of dust emissions from our operations.
At Nammuldi, we installed a dust collector to remove dust from within the iron ore screening facilities and reduce the risk of dust entering the atmosphere. We are also commissioning new dust collectors for the Yandicoogina, Paraburdoo and Tom Price sites in 2021.
In addition, other measures such as water cannons for spraying iron ore stockpiles and water carts for reducing dust from roads, open areas and enclosed facilities also help reduce dust emissions from our sites.
During the year, we also standardised our dust governance process across all our Pilbara sites. This work promoted ownership of dust management, making it easier for employees to understand its importance, raise concerns and implement improvements.
Our Iron Ore dust mitigation programme is part of a broader Health and Hygiene Management Plan (HHMP) that addresses dust, water and noise management in a targeted way. The HHMP supports compliance with our regulatory requirements and the management of potential impacts on host communities and the environment.
Queensland Alumina, Queensland, Australia
As part of a commitment to improving environmental performance and ensuring a 50-year old refinery continues to meet current standards, QAL announced a five-year Environment Strategy (5YES) in August 2018.
In September 2018, QAL experienced an alkali release that left the boundaries of the refinery. In December 2020, QAL was found guilty by Gladstone Magistrates Court of unlawfully causing serious environmental harm and contravening a condition of the Environmental Authority issued by the Queensland Government's Department of Environment and Science.
Since this incident, the operation has made significant progress toward improving environmental performance – including by introducing a Process Safety Management system that puts controls in place to further mitigate the risk of process incidents occurring. The system has been operating effectively for two years.
With the design work now completed on the 5YES, QAL estimates the investment in projects and solutions will be A$400 million. It will improve performance in the areas of:
Air quality (dust, odour and caustic releases) – reduce emissions and improve controls
Water – reduce the level of impact to waterways
Land – prevent and remediate contamination to land
Noise – engineering solutions to reduce noise
Recognising that the culture of an organisation is a significant factor impacting its environmental performance, QAL is also redefining the way employees view environmental risk by:
Continuing to adopt a process safety management system to identify critical controls for major hazards, which are very closely associated with environmental issues, and;
Instituting due and proper consideration of environmental obligations in their everyday tasks, as well as understanding of the upstream and downstream impacts of their tasks and materials – transitioning from a workforce to environmental stewards.
Employees tell us that the 5YES is having an impact – in a survey conducted in April 2020, 93% of those surveyed say they feel able to make a difference in managing QAL's environmental impact.
The team at QAL has already completed 23 of the 60 projects and invested A$108 million. Half of this has been with local suppliers and manufacturers within Gladstone.