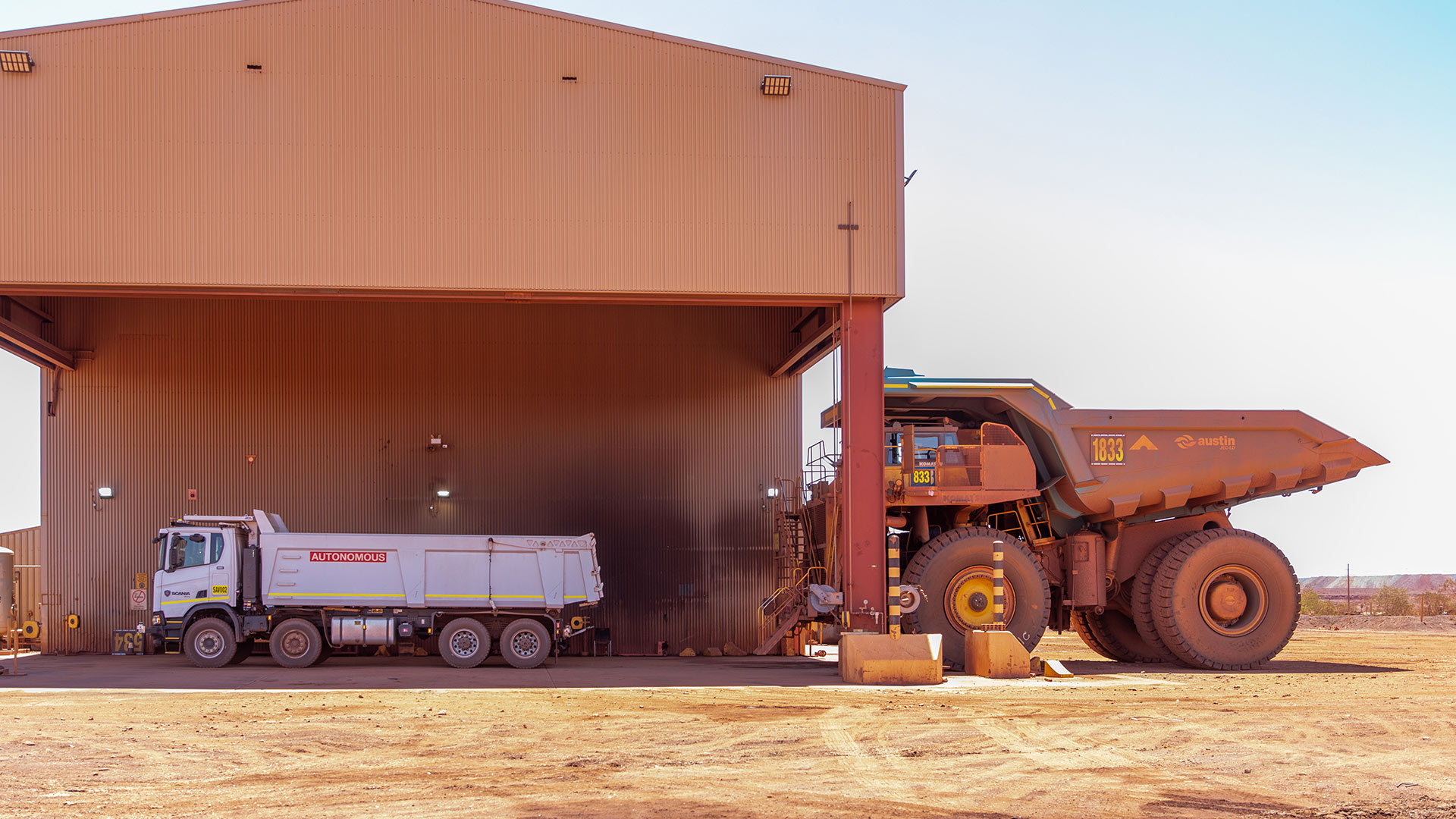 New tech for renewable transport
Transitioning the Pilbara to zero-emission trucks and trains
---
Last updated: 15 November 2022
---
The internal combustion engine, although it was the primary driver of industrial progress for two centuries, will likely be phased out entirely over the next few decades.
Energy solutions for transport have advanced significantly in recent years as the electric vehicle (EV) and solar industries have boomed. But we still rely heavily on emissions-heavy fuel for transport, haulage and logistics – these produce the fourth-highest emissions across our operations, with mobile diesel representing approximately 13% of our total emissions.
We've set emission reduction targets of 15% by 2025 and 50% by 2030, on the way to meeting our commitment of net-zero emissions by 2050. To achieve this, we'll need to think differently about the way we operate and the way we use energy – including repowering our fleets.
We're working on several projects that will electrify the mobile fleet at our Pilbara operations – including haul trucks, mobile equipment and rail operations – by replacing existing diesel fleets with battery and other technologies.
To support repowering our mobile fleet, we're also working to transition our Iron Ore operations away from gas powered generation to renewable solar and wind power. We're working on delivering the first one gigawatt of renewable energy, which will abate around 1 million tonnes of CO2 – equivalent to more than what 200,000 cars would emit in a year, and about a third of our 2021 total Scope 1 and 2 emissions across our iron ore business.
In 2021, we launched the Charge On Innovation Challenge as Founding Patrons, alongside Vale and BHP and facilitated by Austmine. This global initiative challenges technology innovators to develop concepts for large-scale haul truck electrification systems to help the mining sector to reduce its consumption of diesel fuel and significantly cut emissions from surface-mine operations.
At our Kennecott Copper mine in the United States, we're trialling a Sandvik battery-electric haul truck and loader as part of underground development work to improve health and safety, increase productivity and reduce carbon emissions.
Finding right-size haul trucks that measure up
Across the mining industry, there's been a long-held view that 'bigger is better'. Enormous haul trucks provide economies of scale, allowing operations to move more material more quickly by leveraging the large trucks' power and carrying capacity.
But we're challenging our thinking on size. Larger haul trucks, while already automated, consume more energy than current electric-vehicle power sources can generate. By exploring truck size, we want to assess how big and small trucks can both be a part of the solution to reduce our emissions in the Pilbara and find fit-for-purpose solutions in mining.
At our Channar mine in the East Pilbara, we're working with Scania to trial more agile automated trucks that could be electrified more readily to reduce our carbon emissions, and could improve our speed to market.
They could also reduce emissions and costs while improving mining practices across site infrastructure and operations. These trucks can operate on narrower roads, allowing us to cut steeper pit walls and reduce vegetation disturbance. This reduces the amount of earth we need to move to access the ore, which means the agile trucks don't just produce lower or no emissions – they also help reduce our overall energy usage while we're constructing and operating our sites.
We're also exploring options to further reduce emissions of larger trucks through our partnerships with Komatsu and Caterpillar. We are working with both partners to develop their future 220t+ zero emissions autonomous haul trucks, including key development programs and milestones for early operational deployment.
Making remote road trips EV-friendly
As drivers look for greener ways to get around, electric vehicle (EV) ownership is rapidly increasing.
More

But EVs need access to charging stations for 'fuel' – which can be a challenge in remote parts of the world, like Western Australia's Pilbara region.

It's not uncommon in these areas to see an extension cord stretching from a car window to a power outlet at a local oval or business, which is not just inconvenient, it's also a costly and inefficient way to recharge an EV.

To help create a lower-carbon Pilbara, we've recently installed an Australian-made Tritium EV charger at Paraburdoo – just 130 km from one of Western Australia's most renowned tourist destinations at Karijini National Park.

The charger will help ensure that our fleet of site EVs can stay efficiently mobile in the region, while supporting an innovative Australian business, and boosting the local economy by encouraging eager EV drivers to visit the area as tourists.

And we're not stopping there, with installation of two more EV chargers planned for Tom Price and our Coastal Operations.
Electrifying the Pilbara rail network
Another major contributor to our transport emissions is diesel-powered trains on our Pilbara network, which transport ore from the mines to our ports.
In January 2022, we purchased four 7MWh FLX drive battery-electric locomotives from Wabtec Corporation in the United States. We'll be piloting them in a rigorous feasibility and safety trial on our Pilbara rail network, starting from 2024.
During the trial, we'll be testing their efficiency as a replacement for our existing diesel trains. They'll use purpose-built charging stations at the port or mine, supplemented by a cutting-edge regenerative braking system that uses kinetic energy to recharge the onboard batteries while the trains are in motion.
If successful, they'll eventually phase out our reliance on diesel rail transport for our iron ore operations.