At Rio Tinto, we produce materials essential to human progress.
Achieving this purpose requires us to work, as often as not, in remote locations and sensitive, beautiful environments, often on land owned by Indigenous peoples. Our values, experience and history tell us that we must work in a way that delivers real, lasting benefits. We must care for our employees, respect and safeguard the environment when we explore, build and operate, and re-purpose or rehabilitate the land when our operations come to an end. We must also contribute to local and national economies by paying competitive wages, treating our suppliers fairly, investing in our local communities and paying our share of taxes. And we must do so in a way that preserves the profitability of our own business, not only so we can meet our commitments to our shareholders, but so that we can continue to invest in areas important to our other stakeholders, including safety, climate change mitigation and workforce training. These beliefs are the foundation of our views on sustainability.
Our strategy
In 2018, we launched our first integrated sustainability strategy. This strategy commits us to adopt high standards, often going beyond legal requirements, on the sustainability issues that are material to our business, our employees, the communities that host us and the customers that buy and use our products. Our goal is to achieve consistent, high-quality social and environmental performance across all of our operations and to increase our stakeholders' knowledge of how we work through meaningful disclosures and transparency. We have also made an effort to better understand, engage and partner with our key stakeholders to create sustained, mutual value. We support the 2030 development agenda and contribute to the UN Sustainable Development Goals.
Our portfolio is also an important part of our sustainability strategy. In 2018, we became the only major player in our industry to have a portfolio free of fossil fuel production. Today, our portfolio comprises commodities with solid long-term fundamentals, including those critical for the transition to a low-carbon economy.
We express this strategy in three pillars:
Running a safe, responsible and profitable business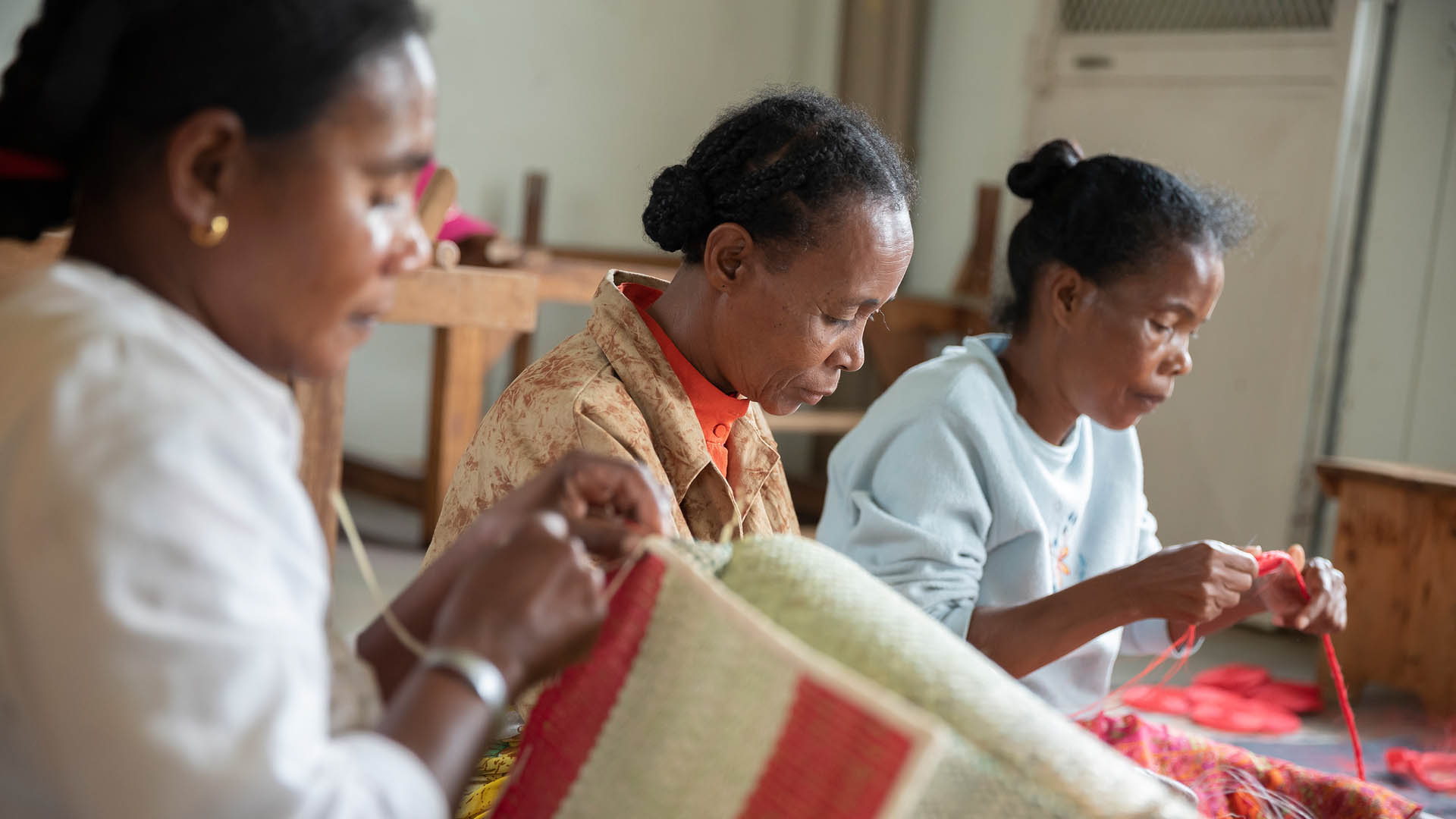 Collaborating to enable long-term economic benefits
Pioneering materials essential for human progress
This year, we re-examined our approach to the UN Sustainable Development Goals (SDGs) – in conjunction with our purpose, business and sustainability strategies and risks – to better understand how we can work alongside governments, civil society and others to pursue meaningful impact on development. We decided a focus on the two goals – SDG 12 (responsible consumption and production) and SDG 8 (decent work and economic growth) – that we feel are most relevant to operating our business responsibly.
SDG 12 relates to how we – as a custodian of natural and mineral resources – mine, process and produce materials and contribute to ethical global supply chains, including trusted lifecycle assessments. This SDG builds on our existing health, safety, environment and community performance standards and our membership of responsible production and product stewardship programmes, including the Aluminium Stewardship Initiative, Copper Mark, the International Council on Mining and Metal's Performance Expectations, the Responsible Jewellery Council and the Mining Association of Canada's Towards Sustainable Mining.

SDG 8 speaks directly to our values and priorities, including our commitments to creating a safe and inclusive working environment, as well as promoting education and training partnerships that support social and economic development, including by helping to develop skills for the future. We are committed to supporting underrepresented groups; in particular, we seek to ensure Traditional Owners and Indigenous peoples have a stronger voice in the decisions that affect their lands.

In our business, efforts to further these two 'lead' goals are naturally supplemented by efforts to further several other 'supporting' goals. These are also strongly aligned with our sustainable development and business drivers – climate action, water, gender diversity, health and wellbeing, reduced inequalities, innovation and quality education, and environment.

SDG 17 (partnerships for goals) reflects our approach to sustainability and is fundamental to the way we run our business. We work purposefully with technology partners, local suppliers, governments, community groups, industry leaders and NGOs at all stages of the mining lifecycle to deliver real benefits to all our stakeholders.
The first pillar is foundational: running a safe, responsible and profitable business.
As such, this pillar includes issues that lay at the heart of our business.
Safety is our top priority because, simply put, we care for the people we work with. We therefore have robust standards, processes and tools embedded across our business to protect the health and safety of our people, our environment and our communities.

Maintaining and enhancing our profitability is also critical because only a profitable business can create sustained, long-term value not only to shareholders but also to communities, governments and employees.

Activities that fulfil our obligations to other parts of our business also reside here: our commitment to the rights and wellbeing of our employees, the ethics and integrity of our business and supply chain and respect for the environment, for example. As does transparency: because we believe access to information about our business is critical to building trust with our partners and stakeholders, we regularly disclose relevant information on how we conduct our business and other aspects of our sustainability performance.
Building on the first pillar, the second focuses on the success of our communities and our contribution to governments and partners, including Indigenous groups: collaborating to enable long-term benefits where we operate.
We collaborate with others to build respectful relationships and enable long-term benefits where we operate – working with governments at all levels and community partners to help make a difference in people's lives.

We do this in many ways; one is via a focus on regional economic development (RED). In 2019, we began revising our approach to communities and development, in alignment with the Sustainable Development Goals and with global technological, economic and social changes in mind.

For example, we are looking at more holistic ways to contribute, including by improving our partnerships with the development arms of national, state and provincial governments, as well as international institutions such as the World Bank Group.

Actively supporting global initiatives like the Extractive Industries Transparency Initiative is also part of this effort: ensuring that the money we pay, via taxes and royalties, to governments is disclosed transparently is critical to ensuring that it is used for development and other community needs. We are looking at how we can better leverage financial tools, including those of social impact investors – again, for the benefit of our communities – and also looking at how we can increase the positive impact of our own community investments.

And we are investing in skills training for work of the future. For example, we have partnered with the government of Western Australia and South Metropolitan TAFE (Technical and Further Education) to develop Australia's first nationally recognised vocational qualifications in automation. This partnership aims to train and certify people in new skills, making them easily transferable – so people can follow opportunity wherever they find it.

We also recognise that our business is often the major source of jobs and livelihoods in the communities where we operate, which are often far from metropolitan centres. We take this responsibility seriously.

Employment and job creation is central to our economic contribution in each of the countries where we have a footprint. In 2020, our direct economic contribution was $47 billion, including the total value of operating costs, employee wages and benefits, payments to providers of capital, payments to government, development contributions, payments to landowners and community investments. We strive to employ local people, buy local products and engage local services, and we have targets reflecting this at each of our operations.

In Australia, we employ nearly 19,000 people. In Canada, with nearly 12,000 employees, we are a major employer in the Saguenay – Lac-Saint-Jean, in Quebec – an important hub for our aluminium business. The employment opportunities we create do not stop with our own business. We continue to study our procurement practices, not only to deepen our local spend but also to develop a responsible supply chain in line with the coming low-carbon economy. In 2020, we spent $15.5 billion with suppliers globally. We believe this is how economic development and prosperity is created, and sustained.
The third pillar is about our shared future: producing materials essential for human progress while contributing to some of the greatest challenges facing society
We aim to contribute to a more sustainable future – through reducing our own global carbon footprint, addressing the UN Sustainable Development Goals, forming smart, technology – and value-chain – focused partnerships and producing materials essential to a low-carbon economy.

We have long acknowledged the reality of climate change and its potential to have a negative impact on the world, our communities and our business. In 2015, we supported the outcomes of the Paris Agreement and the long-term goal to limit global average temperature rise to well below 2°C, recognising that doing so will require governments and companies alike to approach climate change with more ambition and action.

We believe we are doing our part – from helping to develop technology that can make the aluminium smelting process entirely free of direct GHG emissions, to providing the world with the materials it needs, such as copper and titanium, to build a new low-carbon economy and products like electric vehicles and smartphones. In 2018, we also exited fossil fuel production, becoming the only major mining company to do so.

Closure is also a part of our shared future because how we manage it is critical to the future of our communities after our operations cease. Today, we plan the design and construction of our operations with closure in mind. We progressively rehabilitate the land as we mine in places like Richards Bay Minerals, our operations in KwaZulu-Natal, South Africa and our bauxite mines in Queensland, Australia. The Diavik diamond mine, in the Northwest Territories, Canada, was designed with closure in mind: the buildings on site can be removed, and, when mining ends, the embankments will be reclaimed and the open pits will be filled with lake water.

This year and in years to come, we plan to continue to explore ways to develop our participation in a circular economy. For example, in the Saguenay – Lac-Saint-Jean region in Quebec, Canada, we worked with local blueberry growers to create a safe and effective fertiliser made from waste created by our aluminium operations. We are also looking at ways to reduce and re-process mineral waste, including tailings. Across our business, we are looking to increase the share of electricity sourced from low-carbon, renewable energy. We are also looking at new ways to work with stakeholders and partners to manage and rehabilitate land and strengthen conservation, including the sustainable management of forests.
We can and must do better
In allowing the destruction of Juukan Gorge to occur, we fell far short of our values as a company and breached the trust placed in us by the Puutu Kunti Kurrama and Pinikura (PKKP) people and other Traditional Owners of the land on which we operate.

We have taken decisive action to ensure that the destruction of a site of such exceptional cultural significance never happens again. Our work to earn back the trust we have lost, with the PKKP people, other Traditional Owners, Indigenous leaders and many other partners, in Australia and elsewhere, is one of our most important priorities. We do not underestimate the time and effort this will take. But we are determined to learn the lessons from Juukan Gorge and use them as an enduring legacy to catalyse broader changes within our business and beyond.

We are not where we want to be on diversity – our company must become more representative of the communities in which we operate and the world we serve. Understanding how we can strengthen our relationships with host communities is a priority, as is supporting them to optimise the economic benefits of our time on their land.

We are pleased with our strong safety performance, but we know we must continue to improve. On climate change, we must continue to play our part in finding solutions to address the challenge. We appreciate that the changing nature of work presents opportunities for our business, but also significant challenges for many. Managing the coming closure of a certain number of our sites, and doing this well, will reflect our commitment.

Today, more than ever, we know we have a responsibility to work in a way that delivers real lasting benefits – for our shareholders, employees, communities and host governments alike.
Voluntary commitments, accreditations and memberships
We take part in a number of global, national and regional organisations and initiatives that inform our sustainability approach and standards, which in turn allows us to better manage our risks. External organisations and initiatives assess and recognise our performance, and we participate in industry accreditation programmes for some of our products.
These organisations and initiatives include the following:
Aluminium Stewardship Initiative (ASI)

The ASI aims to create sustainability and transparency throughout the aluminium industry. It has developed the world's first global Responsible Aluminium Standard, used to assess environmental, social and governance practices across the aluminium supply chain for responsible sourcing. We were the first company in the world to receive certification under the Aluminium Stewardship Initiative (ASI).

Business for Social Responsibility (BSR)

BSR is a global non-profit organization that works with its network of more than 250 member companies and other partners to build a just and sustainable world. As a member, we share information on sustainable practices.

The Copper Mark is the first and only programme for responsible production in the copper industry. Originally developed by the International Copper Association with input from a broad range of stakeholders including customers, NGOs and producers, the Copper Mark is now an independent entity with a multi-stakeholder council.

Our copper operations at Kennecott in the US, followed by Oyu Tolgoi in Mongolia became the first and second producers to be awarded the Copper Mark respectively. To achieve the Copper Mark – developed according to the United Nations Sustainable Development Goals – our Kennecott and Oyu Tolgoi copper were assessed against 32 criteria covering environment, community, business and human rights, labour and working conditions and governance. This means that our customers can be assured that our copper meets the highest environmental and social standards – including a transparent and responsible supply chain.

Extractive Industries Transparency Initiative (EITI)

We are a founding member of the EITI and have played an active role in this global standard since 2003. The EITI promotes open and accountable management of natural resources to make sure our activities benefit the many, not the few. We are transparent about the taxes and royalties we pay – publishing an annual Taxes paid report since 2010.

Global Reporting Initiative (GRI)

GRI is an international independent organisation with an international framework and standards for sustainability reporting. We prepare our Group-level sustainable development report informed by the GRI Sustainability Reporting Standards (Core option) and the GRI Mining and Metals Sector Supplement.

International Council on Mining & Metals (ICMM)

As a member, we commit to implementing and reporting on ICMM's 10 Principles for Sustainable Development. These cover corporate governance, environmental stewardship and community engagement. Our chief executive is a member of the ICMM Council, and we participate actively in various working groups.

We participate in the Kimberley Process (KP) through our involvement with the World Diamond Council (WDC). The KP focuses on preventing conflict diamonds from entering the global supply chain.

London Bullion Market Association (LBMA)

The LBMA has renewed Rio Tinto Kennecott's responsible gold certificate, which guarantees that the precious metal produced from Kennecott's refinery can be sold and traded globally. The certificate is one of the requirements for a gold refinery to get on the LBMA's Good Delivery List, universally acknowledged as the international standard for quality and responsible production. Many precious metal exchanges will accept gold bars only from refineries who appear on the list.

OECD Guidelines for Multinational Enterprises

The OECD Guidelines for Multinational Enterprises are recommendations by governments to multinational enterprises operating in or from adhering countries. They include non-binding principles and standards for responsible business conduct in a global context consistent with applicable laws and internationally recognised standards. These guidelines are a multilaterally agreed and comprehensive code of responsible business conduct that governments have committed to promoting.

The Proteus Partnership was formed in 2003 as a collaborative effort between leading extractive companies and the United Nations Environmental Program World Conservation Monitoring Centre (UNEP-WCMC) to improve accessibility to biodiversity data for better decision making and support the further development of global biodiversity resources. As a Proteus Partner, Rio Tinto has access to the UNEP-WCMC online biodiversity assessment tool, which allows us to scan for potential sensitive areas in areas where we are seeking tenure before major investments are made.

Responsible Jewellery Council (RJC)

The RJC is an international non-profit organisation that promotes transparent and responsible ethical, human rights, social and environmental practices throughout the jewellery industry – from mine to retail. We are a founding member and were the first mining company to be certified in 2012. We were re-certified in 2015 against the RJC Code of Practice Standard. RJC certification covers operations or activities of our businesses that produce diamonds, gold or gold in concentrates that contribute to the jewellery supply chain. This includes our diamond mines – Diavik in Canada and Argyle in Western Australia – and our Kennecott copper mine in Utah for gold.

Towards Sustainable Mining (TSM)

We participate in the Towards Sustainable Mining (TSM) programme through our membership of the Mining Association of Canada (MAC). TSM is a sustainability certification scheme that applies to members of MAC operating in Canada.

United Nations Universal Declaration of Human Rights (UDHR)

The UDHR is a milestone document in the history of human rights which sets out, for the first time, fundamental human rights to be respected. We respect and support all internationally recognised human rights consistent with the UDHR.

United Nations Global Compact (UNGC)

The UNGC is a voluntary initiative based on CEO commitments to implement universal sustainability principles and to take steps to support UN goals. As members, we incorporate the Ten Principles of the UN Global Compact into strategies, policies and procedures.

United Nations Guiding Principles on Business and Human Rights (UNGPs)

The UNGPs are a global reference point for preventing and addressing the risk of adverse impacts on human rights linked to business. We seek to operate in a manner consistent with the UNGPs.

United Nations' Sustainable Development Goals (SDGs)

The SDGs are a set of 17 goals and 169 targets endorsed by the UN in 2015. These present a broad sustainability agenda focused on the need to end poverty, fight inequality and injustice and respond to climate change by 2030. In 2016, our chief executive signed a public statement of support for the SDGs.

Voluntary Principles on Security and Human Rights (VPSHR)

The VPSHR guide extractives companies on how to maintain the safety and security of their operations in line with respect for human rights. Participants, including governments, companies and non-government organisations, agree to proactively implement or support the implementation of the VPSHR. We published our VPSHR report for the first time in 2018 (previously only provided to other participants) and have committed to doing this each year.