We are supporting our employees and communities as the COVID-19 situation evolves.
When COVID-19 emerged as a global pandemic, we quickly assessed the challenges for our company, communities, contractors and employees and instituted controls to keep people safe and healthy from the virus and allow our operations to run safely and smoothly.
Every mine, operation and office adopted a set of screening measures, such as health questionnaires and temperature screening. In addition, for most locations, we were able to implement virus screening. This work has been closely co-ordinated with local governments. We also partnered with a data analytics specialist and used artificial intelligence (AI) to help us anticipate emerging local COVID-19 geographic risks so we could adjust resources and controls in those regions. For example, this tool helped us identify the best time to strengthen or relax control measures, such as when employees could safely return to offices in different jurisdictions.
We are supporting government vaccination campaigns, including the deployment of vaccination clinics in some regions:
In Canada, we are supporting government vaccination efforts in the Saguenay-Lac-Saint-Jean region, at our Diavik operation in the Northwest Territories and at our operation in Kitimat, British Columbia.
In the US, we are supporting government efforts on vaccination implementation in Kern county, near our Boron operations in California. At our Kennecott operations in Utah and Resolution Copper project in Arizona, vaccination plans are progressing well in line with the government rollout.
At our iron ore and salt assets in the Pilbara, Western Australia, our frontline port and health workers have been made eligible to receive the vaccination should they choose to do so. The remainder of the workforce will be offered the vaccination in line with the Western Australian government rollout.
Working with our customers and business continuity
We are continuing to work with our customers to fulfil orders and meet their requirements while complying with government directives, with our commercial teams in our key locations focussing on business continuity and customer support.
We have a global, site and regional business resilience teams to keep our operations running safely, enabling commercial supply chain continuity, and to plan for future eventualities under various scenarios. Critical infrastructure at each of our operations has been assessed and there a continuity plan in place.
Protecting employees
We are proactively managing COVID-19 challenges through our dedicated business resilience teams and by embedding changes in the way we work and learning to co-exist with the virus. We have maintained strict protocols globally and we continue to monitor the situation closely.
During 2020, we have put a range of measures in place – in line with government guidance and directives, and best practice advice from leading medical experts and international health organisations – to keep employees, contractors and partners safe. These range from physical distancing to travel restrictions, roster changes and team splits, to flexible working arrangements, rapid screening and personal hygiene controls. Examples include:
Screening programmes: implementing temperature and other rapid screening tests of workforce at airports, in alignment with local guidance. We also implemented screening questionnaires and hotlines that provide employees with health assessments by medical advisors on fitness for work, including fatigue management. We also worked with local towns, governments and community agencies to build on the existing protocols for social distancing.
Social distancing protocols: reducing the number of people attending pre-start meetings; keeping at least two metres (six feet) apart; closing all bars, gyms and pools at mining camp sites to limit social interaction; and changing configurations in buses, light vehicles and planes to extend the distance between passengers. Site meeting rooms are also marked to indicate the maximum number of participants admissible.
Personal hygiene: implementing controls for personal hygiene including hand washing prior to entering dining rooms; increased frequency of cleaning at high touch areas; and providing extra hand sanitiser and work station cleaning areas. Buffet-style food services in some operations have been eliminated or modified.
Support for our employees: providing an on-call service for employees to return home for health or family emergencies and supporting employees' mental health through our employee assistance programme. Isolation areas have also been identified and site protocols established; we have put medical teams in place with temporary clinics prepared.
Our office-based employees are beginning to return to offices in regions where this is permitted. In most cases, employees are returning to offices in alternate teams to reduce the risk of widespread transmission and ensure business continuity.
We are providing flexible work arrangements to support our employees and their families in areas where schools and day care centres are closed.
Innovating to stay safe
Technology played an essential role in helping us keep our operations running, smoothly and safely, during the COVID-19 pandemic.

We partnered with a data analytics specialist and used artificial intelligence (AI) to help us anticipate emerging COVID-19 risks across geographies so we could adjust resources and controls – such as office access – in higher-risk regions.

Our iron ore business in the Pilbara, Western Australia, introduced antibody testing to supplement screening tests at domestic airports for our fly-in, fly-out workforce, enabling our business to continue operating while minimising the risk of COVID-19 transmission.

We increased our use of drones and mine pit cameras and introduced video headsets, so we could continue to conduct visual inspections of tailings facilities and equipment while complying with travel restrictions and physical distancing requirements. At the Oyu Tolgoi underground project, we used Vuzix smart glasses – based on augmented reality – letting technical experts from all over the world work with local teams.
An example of operating safely during COVID-19: Iron Ore, Pilbara, Western Australia
Our Iron Ore business in Western Australia employs 13,600 people. The majority of our operations are based in the Pilbara region, more than 1,000 kilometres from Perth, and include a significant fly-in, fly-out (FIFO) workforce.
Minimising the risk of COVID-19 transmission among our FIFO employees and contractors was essential to continue operating safely, and in compliance with government directives.
From March to August, we implemented longer rosters (two-week-on, two-week-off) for thousands of people to reduce the risk of spreading the virus by reducing the frequency of travel in and out of the Pilbara. To service these changes, we secured additional charter flights, ensuring compliance with physical distancing guidelines by spacing people appropriately on planes and in airports. To comply with travel restrictions, we also relocated more than 700 employees with specialist skills to Perth so they could continue in their roles.
We introduced a five-layer screening process – conducted by trained medical staff – at the Perth, Busselton, Geraldton and Albany airports for FIFO employees and contractors returning to work.
This included:
A health questionnaire prior to travelling to screen for potential exposure to COVID-19, consistent with government restrictions on intra-state travel
A face-to-face assessment with a nurse on arrival at the airport
Temperature checks via an electronic thermometer
Antibody testing, via a small blood sample, to check for virus-related antibodies. If antibodies were detected, the employee was tested for COVID-19 via a nasopharyngeal swab (Perth airport) or referred to an approved COVID-19 testing clinic (regional airports). They were also required to self-isolate as a precaution
An access band allowing employees who were cleared by the screening process to board their flight
We also changed the way we worked on the ground. For example, we implemented stronger controls on access to our sites and used technology – such as drones and mine pit cameras – to conduct monitoring activities, reducing the need to visit site. Our health and safety teams put a range of safeguards in place: rooms were measured and marked out to indicate maximum capacity, crosses marked on floors to indicate physical distancing guidelines, and we increased the frequency of cleaning high-touch areas.
We also supported medically vulnerable employees, ensuring appropriate medical assessments were undertaken. We also made necessary work arrangements to protect their health.
To support our FIFO teams – many of whom were spending more time away from their families – we provided an on-call service so they could return home for health or family emergencies. In addition, we offered a hotline providing employees with health assessments by medical advisers on fitness for work, including fatigue management. We also provided mental health support through our employee assistance programme.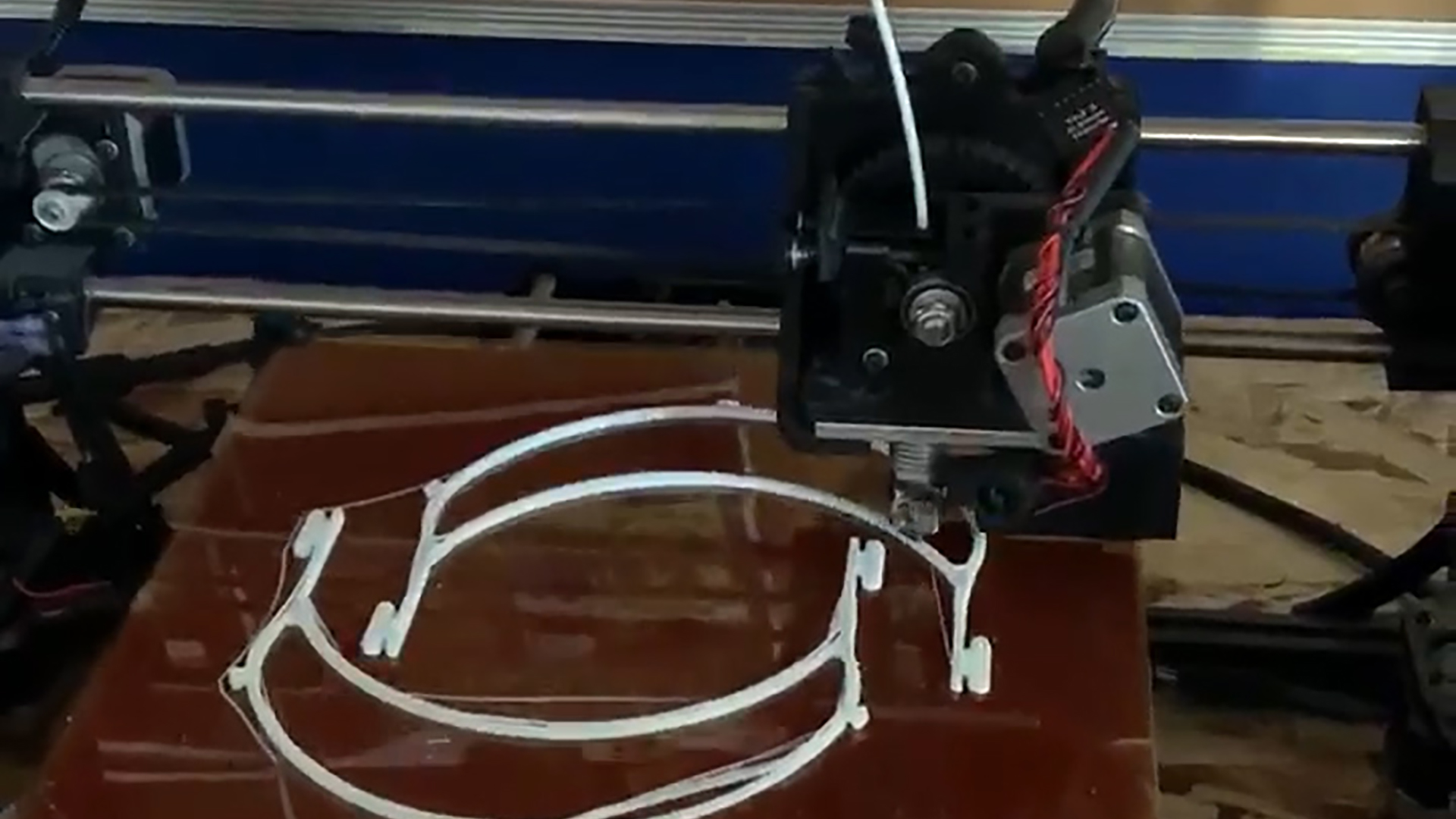 Robotics students use 3D printing to help health workers
Resolution Copper, Arizona, US
Students at Globe High School in Globe, Arizona, wanted to make sure local hospitals had the safety equipment they needed to respond to the COVID-19 pandemic.
More

So they teamed up with FIRST, a global robotics community, to come up with a way to 3D print face shields for doctors and nurses. The shield frames can be sanitised and reused, and the plastic face cover can be replaced as needed. Genius!

The team hopes to produce around 100 face shields a week. As partners of the Globe High School Robotics programme, we couldn't be happier to see them pioneer progress.
Protecting host communities
We aim to keep our communities safe by doing what we can to not put them at risk. First and foremost, we are asking our teams and partners to stay aware of national and local updates and follow all safety and hygiene protective measures recommended, including washing hands with soap and water for 20 seconds, using alcohol-based hand sanitisers and maintaining at least two metres (six feet) of distance from others. We are also asking our employees and contractors to ensure that every personal risk mitigation measure is followed, including wearing personal protective equipment (PPE) and following journey management guidelines.
We have strict protocols in place guiding the way we engage with communities. This includes building two community-related verification steps into our critical risk management system, requiring our teams to assess potential COVID-19 risks to the community and develop a plan to manage them.
If, for whatever reason, physical interaction with any community is risky, we are asking our employees and partners to turn to non-physical ways to interact or to cancel or postpone the engagement.
Our employees and contractors cannot visit vulnerable communities – those in which underlying health challenges are prevalent, or those in remote areas where health care infrastructure is not strong – without the express approval of appropriate community and Rio Tinto leadership. Employees from such communities have been provided with support to return to their community.
Reducing the risk of transmission
During the COVID-19 global pandemic, we took active measures to reduce the risk of transmission from our employees and contractors to local communities.
We have strict protocols in place guiding the way we engage with communities. This includes two community-related verification steps in our critical risk management system, requiring our teams to assess potential COVID-19 risks to the community and develop a plan to manage them.
For example, at our Weipa bauxite operations in far north Queensland, Australia, we worked closely with the local disaster management group, including the town authority and medical department, to develop and implement specific plans in response to the federal government declaring biosecurity health zones. At the Diavik Diamond Mine in the Northwest Territories, Canada, where many of our employees come from vulnerable, remote communities, we introduced a range of measures to minimise the risk of transmission, including mandatory testing, calls with medical professionals prior to travel, enhanced hygiene and physical distancing measures, roster and flight changes, and the mandatory use of masks.
Supporting community preparedness and recovery
Our $25 million additional investment to support global grassroots, community COVID-19 preparedness and recovery will predominantly focus on value-in-kind opportunities. Some of these measures are well progressed, and include:
Pledging A$1.25 million over five years to the Royal Flying Doctor Service in Australia (Queensland Section) to improve emergency and remotely delivered health care services across the region
Partnering with five municipal governments, the First Nation of Mashteuiatsh and financial services group Desjardins to create a regional stimulus fund, which provided financial support for health and safety, productivity and efficiency measures to make businesses more sustainable. The fund, which complemented existing local government initiatives, provided C$750,000 to more than 100 businesses
Upgrading a building and turning it into a dedicated treatment centre that can receive up to 108 patients, and treat 60 people – including up to 32 needing intensive care – in the Anosy region of Madagascar
Donating 25,000 masks and other equipment worth around C$100,000 to the local health authority and social services in Saguenay – Lac-Saint-Jean, in Quebec, Canada
Providing alternative housing support to a local shelter in Labrador, Canada, for use if women and children affected by COVID-19 need a secure refuge
Donating EUR 20,000 to the Red Cross in Belgrade and EUR 20,000 to the Red Cross in Loznica for essential food and hygiene items for the cities' most vulnerable citizens
Working across the industry and with governments
We continue to look for opportunities to share knowledge of response activities and to partner with others in the industry to find joint solutions to address and aid in the recovery from this global pandemic. We are actively contributing to COVID-19 related best practice forums in health, safety and communities, as established by the International Council of Mining and Metals (ICMM).
We are working closely with governments around the world to ensure its operations can continue to contribute to society at this challenging time.
Supporting vital scientific research into COVID-19
Melbourne, Australia
We have donated A$670,000 to the Murdoch Children's Research Institute in Melbourne, Australia, to help scientists better understand how COVID-19 affects children.
More

The research – which is focused on children's immune systems – will help scientists understand the disease and how it progresses, how it spreads within families, and the long-term effects of COVID-19 on our immune systems. We are proud to play some small part in expanding the world's understanding of COVID-19 and help protect our communities – and especially our children – in the future.
Other forms of support
We are looking at ways to support our communities and regions. Some examples:
Australia
In Western Australia, we are working with state and local governments, as well as the not-for-profit sector and community organisations, to play our part in the response and recovery effort – including in the Pilbara and regional FIFO communities.
For example, we contributed A$1 million to the Shire of Ashburton and A$1 million to the City of Karratha towards initiatives to drive economic stimulus and support community organisations and small businesses.
We have also pledged A$500,000 to CareFlight Northern Operations to support emergency aeromedical care in the Northern Territory as part of a A$1.1 million commitment to support East Arnhem communities during the COVID-19 pandemic.
And we have extended our employee mental health and support services to also help communities in Western Australia as part of our COVID-19 relief package. Through the programme, which runs for six months, members of our host communities, local suppliers, and category 2 and 3 contractors and their families will be offered private and confidential counselling support by our provider, BSS Employee Assistance.
Canada and the United States
We are investing $10 million in a variety of grassroots projects across Canada and the US to support local community efforts to fight COVID-19 and its social and economic impacts, along with supporting projects that maintain and create regional economic development.
Some of the initiatives include:
Canada
In the Northwest Territories, our Diavik diamond mine is partnering with the Yellowknife Women's Society to support its COVID-19 isolation shelter with a C$150,000 contribution. Our support lets the shelter provide housing and food for vulnerable men and women who would be at special risk if they contract COVID-19. We are also contributing C$60,000 to five Indigenous communities for food and other needs.
In Saguenay – Lac-Saint-Jean, Quebec, we donated 25,000 masks and other equipment worth around C$100,000 to the local health and social services authority. And in Montreal, we donated C$50,000 to the Table de quartier de Montréal-Nord, whose work brings together nearly 100 local community organisations, to help provide families experiencing hardship with food security and the equipment their children need to stay connected to school.
BC Works, our aluminium operation in British Columbia, has donated C$50,000 to the Kitimat General Hospital Foundation to help support during the COVID-19 crisis. BC Works has also donated gowns to local healthcare facilities and half masks with filters to the Royal Canadian Mounted Police.
The Iron Ore Company of Canada (IOC), donated a total of C$40,000, in cash and in kind, to the Labrador West Health Centre and the Sept-Iles Hospital Foundation to support patients and staff through this difficult time, including by providing tablet computers to help patients keep in touch with their loved ones. IOC also provided alternative housing to Hope Haven, a Transition House for women experiencing violence or abuse – so they could offer accommodation to women and children affected by COVID-19 who are fleeing domestic violence and need to self-isolate.
And through our employee donation matching initiative, we gave more than C$100,000 to four food banks in Havre-St-Pierre and Sorel-Tracy in Quebec, near our Rio Tinto Fer et Titane operations.
United States
In Arizona, the Resolution Copper project worked with United Food and other partners to distribute more than 100,000 cans of drinking water and donate more than 280,000 meals to the communities near the project.
In California, home to US Borax, our borates business, we donated $10,000 to offer learning support and food assistance to families living near our facility at the Port of Los Angeles.
In Utah, our Kennecott copper operation is partnering with the Natural History Museum to run a digital education hub pilot to improve access to technology for students.
China
In February, we donated $1 million to the Chinese Red Cross Foundation to contribute to China's nationwide medical effort, including to support hospital upgrades and the purchase of medical supplies in the areas most affected by the outbreak.
Mongolia
In partnership with the United Nations, we committed over $600,000 to COVID-19 relief initiatives including donation of laboratory equipment. And our employees and contractors organised a fundraising drive and raised MNT 145,543,000 ($52,500) to donate to the Mongolian Ministry of Health in support of its efforts to prevent the spread of the pandemic.
South Africa
At Richards Bay Minerals, KwaZulu-Natal, South Africa, we have donated more than R6 million to provide critical support for local communities impacted by the COVID-19 pandemic, including food and water supplies, as well as PPE and essential equipment for frontline health workers and clinics.