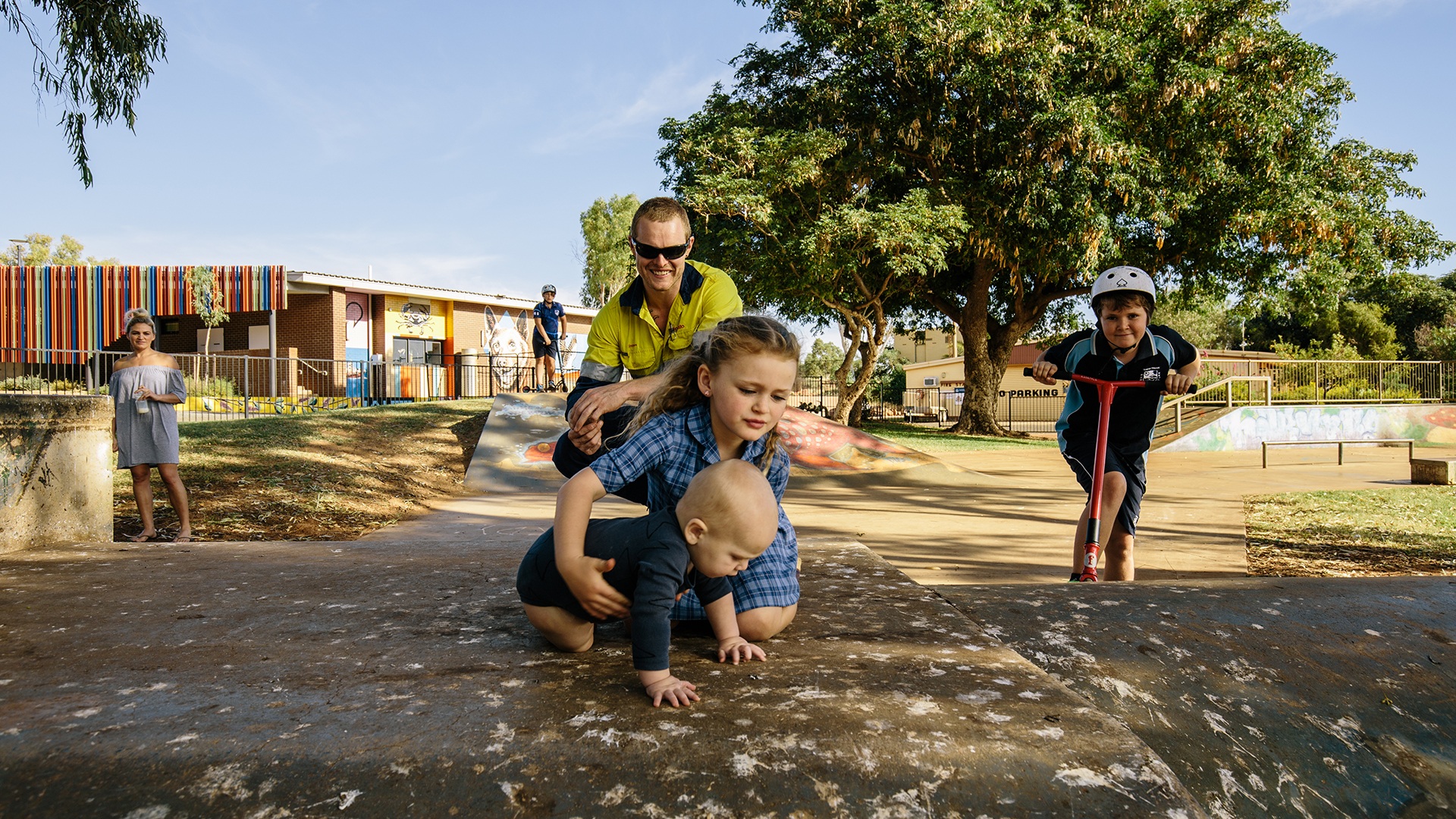 Cultural Heritage in the Pilbara
Many of our Pilbara iron ore operations are on or near land that is significant to Indigenous groups, including Traditional Owners. We recognise the cultural, spiritual and physical connections that Traditional Owners have with the land, water, plants and animals across the Pilbara region of Western Australia.
We consider both tangible and intangible cultural values as part of cultural heritage management.
Our heritage team in Western Australia is one of the largest and most experienced of its kind in the resources industry. Our experts include qualified archaeologists, anthropologists, specialists in cultural heritage management aligned with regulatory frameworks, geographical information systems and information management, and liaison officers, all of whom collectively facilitate the management of cultural heritage across our iron ore tenements, solar salt operations and mining leases in Western Australia.
We have a comprehensive cultural heritage management framework which focuses on engagement with Traditional Owners and their native title representative bodies to protect and manage cultural heritage. The framework covers all phases of the mining life cycle – from exploration through to operation and closure. As part of this, we use a stringent approvals coordination system, which controls ground disturbance activities to make sure that significant Indigenous and environmental sites are not disturbed without approval, and avoided wherever practicable.
We conduct comprehensive consultations and develop long-term relationships with the Traditional Owners on whose lands we operate. We work closely with them throughout the life of a project or operation, as communities' cultural heritage concerns can change over time, and new ones can appear in relation to new developments or processes.
We know we have more to do.
Cultural Heritage Partnerships
As part of our heritage programme, we partner with relevant Indigenous representative organisations, professional bodies and academic institutions to conduct research and analysis of significant sites.
We are proud to partner with the Murujuga Aboriginal Corporation and the University of Western Australia in ongoing investigations and management of rock art, including a major research programme, Murujuga: Dynamics of the Dreaming, and in an annual field school on the Burrup Peninsula near Dampier. This gives students and Indigenous rangers an opportunity to work together in the identification, recording and management of the significant rock art in this area.
Community Agreements in the Pilbara
We were proud to be the first mining company in Australia to embrace native title to land and to form agreements with Traditional Owners. Today, agreements with Indigenous groups, on whose land our operations are often found, as well as others, are central to the way we work and an important way communities drive their own development.
Our agreements set the framework for how we engage with communities and Traditional Owners, often going beyond legal requirements and forming part of a long-term relationship that can span decades. This framework also sets the value-sharing model for the financial and non-financial benefits communities receive for access to land, as well as the agreements for cultural heritage management and a range of other important actions.
In the Pilbara, we have engaged in agreement making with Traditional Owner groups for more than two decades. Today, we have agreements with nine Traditional Owner groups for our iron ore operations. We have agreements covering the traditional country of the Banjima, Eastern Guruma, Ngarlawangga, Ngarluma, Nyiyaparli, Puutu Kunti Kurrama and Pinikura, Robe River Kuruma, Yindjibarndi and Yinhawangka Traditional Owner groups.
Native title agreements generally include mining benefit payments for access to land, managing cultural heritage, and engagement protocols for implementation of agreement approaches. The agreements are implemented through formal processes, such as Local Implementation Committee (LIC) and Regional Implementation Committee (RIC) meetings, as well as informal engagement as part of ongoing, long-standing relationships.
Supporting Indigenous Businesses
We are working with more than 140 Indigenous businesses in the Pilbara, in Western Australia, to help build capacity and become Rio Tinto suppliers. In 2019, we awarded more than $42 million to nearly 50 Pilbara Indigenous-owned businesses to help develop Gudai-Darri (Koodaideri) – our most technologically advanced mine, as well as a landmark $14 million contract to Yurra Pty Ltd., which is majority owned by the Yindjibarndi Aboriginal Corporation, to provide civil maintenance services on and around our Pilbara rail network.
Land Agreements: the Regional Framework Deed
Since 2011, following the execution of the participation agreements, Traditional Owner groups were given the opportunity to opt into the regional framework deed (RFD). To date, eight Traditional Owner groups that have entered into agreements with us have opted in to the RFD. The RFD provides a framework for Rio Tinto and Traditional Owner groups to work together to address joint commitments aligned to the following seven regional standards:
Aboriginal Employment and Training
Aboriginal Business Development and Contracting
Cultural Heritage Management
Environmental Management
Life of Mine Planning
Land Access
Cultural Awareness Training
The Regional Implementation Committee (RIC), provides our company and Traditional Owner opt-in groups with a forum to address joint commitments within the Aboriginal Employment and Training and Aboriginal Business Development and Contracting regional standards. The RIC also advocates for regional economic participation and development of Aboriginal communities across the Pilbara.
Walking the Land Together

Employees in the Community

Fly-In, Fly- Out Employment

Indigenous Scholarship Programme
Colours of our Country
The Pilbara has a rich history and a vibrant artistic heart. The land and its Traditional Owners hold generations of stories, ceremony and culture.
Since 2006, the Colours of our Country exhibition has provided people in Perth with a small snapshot of these stories and customs – 1,500 kilometres away from the magnificent landscapes that influence so many of the works on show.
Colours of our Country is more than an exhibition. It creates economic development opportunities for the featured artists, supports the ongoing sustainability of art groups and artists, providing an outlet for cultural expression.
Now in its 15th year, the exhibition has sold around 2,500 artworks generating more than A$2.59 million for local artists, their art groups and their communities.
And in 2020 – for the first time – Colours of our Country reached a national audience, with the launch of an online exhibition and gallery to coincide with the physical exhibition in Perth, Western Australia.
Walking the Land Together: Pilbara Conversations
In 2018, we released a book, authored by Lisa Holland-McNair, called Walking the Land Together: Pilbara Conversations, which explores the struggles and triumphs experienced by Traditional Owners and Rio Tinto following the High Court of Australia's 1992 ruling around native title rights.
Employees in the Community
Our employees are passionate about giving back to their communities and we support that passion through our two "Employees in the Community" initiatives – Dollars for Doers and Team Rio Tinto.
Dollars for Doers rewards employees who volunteer 50 hours or more of personal time per year for a Western Australia-based community organisation with a $500 grant for their nominated organisation.
Team Rio Tinto encourages groups of employees to take part in community and fundraising activities across Western Australia by funding or matching funding for event registration costs (employees and organisations must meet eligibility criteria). Interested employees can find application packs for both programmes on our corporate intranet.
Fly-In, Fly-Out Employment
Our fly in-fly out (FIFO) programme continues to deliver significant economic benefits for regional towns in Western Australia through stable employment and more spending with local businesses.
According to a report by ACIL Allen Consulting, our regional FIFO programme delivered an estimated economic contribution of A$199.4 million to regional towns outside of the Pilbara and Perth last year, an increase of A$14.7 million since 2016.
A growing regional FIFO workforce of more than 2,230 increased spending – purchases from vendors, credit card payments, airport charges, community investments and wages – in regional Western Australia to A$547.9 million in 2018.
Indigenous Employment
We aim to prioritise Indigenous people and in particular, Traditional Owners, in recruitment or internal redeployment opportunities, and the number of Traditional Owners in our business continues to grow. We also focus on career paths, supporting tertiary students and developing opportunities for Indigenous businesses both at Rio Tinto and more broadly.
We have agreements with nine Traditional Owner groups in whose country we operate, and we continue to meet our mining benefits payment obligations.
Indigenous Scholarship & Cadetship Programmes
Our Indigenous Scholarship programme is aimed at supporting Indigenous people who are studying at a tertiary level. The programme is a direct result of the shared commitment between Rio Tinto and Indigenous groups across the Pilbara.
The programme aims to:
Benefit Indigenous people, in particular those belonging to Traditional Owner groups in area of operations within the Pilbara
Support Indigenous people in successfully completing tertiary studies
Provide a pipeline opportunity of tertiary-qualified Indigenous people for employment at Rio Tinto
Contribute towards the sustainable development of the Pilbara region
Indigenous people recognised outside of the Pilbara area are also eligible to apply.
To be eligible for a Rio Tinto Indigenous Scholarship you must:
Be an Australian resident
Be of Aboriginal and/or Torres Strait Islander decent
Be able to provide evidence of your Indigenous identity by means of recognition with a 'common seal' from the relevant Indigenous group
Meet Australian Taxation Office (ATO) requirements ensuring the funds provided are tax exempt by:

The individual must be a full-time student
The individual must be enrolled at a university in Western Australia
The individual must not be required to be an employee as a condition of their scholarship
The individual must not be contracted wholly or principally for their labour
The individual must not be required to provide personal services now or in the future
The scholarship must be principally for educational purposes

If a scholar does not meet the ATO requirements they are responsible for ensuring appropriate individual taxation advice is sought on their behalf
Demonstrate strong academic achievement and potential
Contact us to find out more.
COVID-19: Working with Our Host Communities
As part of our ongoing commitment to support our host communities through COVID-19 response and recovery efforts, we are proud to be working closely with Ngaarda Media as part of a new partnership.


Located in Roebourne, the organisation broadcasts to Roebourne, Wickham, Karratha, Dampier, Bellary; Karijini National Park; Onslow; Peedamulla; Mingullatharndo; Tom Price; Wakathuni; Youngaleena and Paraburdoo as part of the Pilbara's National Indigenous Radio Service's (NIRS) footprint.

As part of our partnership, we have contributed $10,000 to enable Ngaarda Media to:
Create updates targeting Pilbara Aboriginal people that coincide with Federal and State Government messaging concerning COVID-19 as well as changes to restrictions
Develop messaging that explores some of the positive societal impacts of COVID-19, including families spending more quality time together, political parties collaborating, environmental benefits from reduced manufacturing and carbon emissions
180 radio spots campaign that covers COVID-19 messaging in English, Yindjibarndi and Ngarluma languages, providing a casual employment opportunity for local Traditional Owners as translators
Production of a four minute film focusing on awareness, risks and impacts of COVID-19. This will be done in conjunction with the Pilbara COVID-19 Response Group that has representatives from various Pilbara Aboriginal organisations
We have a long history in the Pilbara, and remain committed to supporting our host communities as they respond to and recover from the impact of COVID-19, including our continued long-term partnerships with the local Indigenous communities.

For more information, please email ciwa@riotinto.com.
COVID-19 Community Investment Funding
Through these difficult times we are in it together, supporting our communities to respond and recover from the impacts of COVID-19. That is why we are committing an additional US$25 million globally to support COVID-19 preparedness, response and recovery.
In Western Australia, we will work with our state and local governments, as well as the not-for-profit sector and community organisations, to prioritise support for communities where our employees live and work, including Pilbara and regional FIFO communities.
Contact the Community team or send your enquiry to ciwa@riotinto.com.
Counselling programme extended to regional WA communities

18 May 2020 Update

Our mental health and support services offered to employees will be extended to assist communities, local suppliers and contractors as part of the company's COVID-19 relief package in Western Australia.

Available immediately, the private and confidential Rio Tinto Employee Assistance Programme (EAP), provided by counselling service BSS, will be expanded to support:

Members of Rio Tinto's host communities in Wickham, Roebourne, Karratha, Dampier, Point Samson, Port Hedland, Tom Price, Paraburdoo, Carnarvon, Nyangumarta, Martu, Kununurra, Wyndham and Warmun

Local suppliers

Category 2 and 3 contractors

Direct family members who reside in the same residence as any of the above

Counselling will be offered to those experiencing situations such as stress, depression, anxiety, relationship problems, addiction (alcohol and drug use), conflict management, anger management, sleep and fatigue problems, family and domestic violence, loss and grief, and unresolved trauma.

The initiative complements our broader support package for regional Western Australian communities including a combined A$2 million to the Shire of Ashburton and the City of Karratha to support their COVID-19 response and relief measures.

Cecile Thaxter, our vice president Health, Safety & Environment said, "The COVID-19 crisis has been a difficult time for people in our workforce and communities, and the impact this can have on mental health and wellbeing should not be underestimated.

"Community feedback suggests the counselling services we offer our staff would also be a valuable support mechanism for people connected to our company in other ways, and we are pleased to now offer this assistance more broadly."

The BSS counselling service, which is private and confidential, is available to these groups for the next six months and can be accessed by contacting BSS direct on 1800 30 30 90, visiting www.bsspsych.com.au, or via the BSS EAP app.

Supporting WA jobs as COVID-19 recovery phase ramps up

14 May 2020 Update

Our iron ore business in Western Australia is continuing to recruit for skilled roles, apprentices, graduates and Aboriginal trainees to fill vacancies as we progress our development plans in the Pilbara.

There are more than 300 jobs currently available including skilled operational and maintenance roles such as frontline supervisors, experienced operators of excavators, haul trucks and graders as well as experienced maintenance staff such as heavy diesel fitters. The roles are a mix of fly-in fly-out from Perth and the company's regional hubs in Western Australia as well as residential positions in Perth and the Pilbara.

We are maintaining our commitment to the development of skills for the future through the hiring of around 160 apprentices, graduates and Aboriginal trainees from the Pilbara, Perth and other regional centres. The 2020 intake of apprentices and graduates is up 25 per cent from last year with gender diversity also significantly increased.

On top of this recruitment effort, our medical provider for COVID-19 screening at Perth Airport has recently hired more than 100 staff including out of work nurses.

In addition to our direct employment opportunities, we remain committed to skills development for current and future workers in the resources industry.

To allow apprentices and trainees to enhance their qualifications, we have committed funding toward the upskilling of out of work apprentices across various industries by covering their fees for a course in automation. This will allow for the enrolment of up to 200 apprentices who have had their apprenticeships suspended or cancelled due to COVID-19.

Successful applicants will complete the recently accredited micro credential Course in Working Effectively in an Automated Environment qualification, which we developed in partnership with South Metropolitan TAFE (SM TAFE) and the Western Australian Government last year. SM TAFE is leading plans to double the intake in the future through expansion to regional TAFEs.

SM TAFE Managing Director Terry Durant said "Working alongside Rio Tinto on this important initiative, SM TAFE will be delivering future-focussed skills to Western Australian apprentices during a critical time in our economic recovery."

6,000 litres of hand cleaning products donated to remote communities

7 May 2020 Update

To help combat the spread of COVID-19 in remote communities in Western Australia, Northern Territory and Queensland, we have partnered with Perth-based freight and logistics provider Matic Transport to donate 6,000 litres of hand cleaning products.

The recipients are communities in the Pilbara, (Roebourne, Tom Price, Pannawonica, Paraburdoo), and the Kimberley, as well as communities in Queensland (Weipa) and Northern Territory (Nhulunbuy and West Arnhem).

The supplies of anti-bacterial and anti-viral hand cleaning products recently departed Perth on a 15,000 kilometre journey across the top of the country thanks to Matic Transport who have donated their time and freight services to distribute the products.

We sourced the anti-bacterial and anti-viral hand cleaning products from a local family-owned Western Australian manufacturer based in Perth. We are seeking to source additional supplies to continue to support remote communities.

Murujuga Aboriginal Corporation chief executive officer Peter Jeffries, who received 1,000 litres of donated sanitizer in Roebourne on behalf of the local community, said, "We approached our industry partners for support given Aboriginal communities were identified as vulnerable people, particularly our elderly and our members who suffer from chronic health issues.

"It will be very important for our members to receive this donation of anti-bacterial hand-cleaning soap to help contain the spread of the virus in the community. I'd like to thank Rio Tinto for the donation."

Matic Group company director Danny Matic said, "As a family owned business, we are proud to be part of the Rio Tinto family as its core values are closely aligned to our own – Our people. Our Communities. We're proud to be part of the effort to make available anti-bacterial and anti-viral hand cleaning products to remote indigenous communities, remote hospitals and emergency services.

"Our pledge to communities through our partnership with Rio Tinto Iron Ore is to engage with indigenous communities in a manner that is inclusive, respects rights, culture and everyone's way of life."

We also donated more than 600 litres of hand hygiene and cleaning products to Pilbara schools last week to support their safe reopening. A number of schools received the urgent supplies including St Luke's College, Roebourne District and Karratha Senior High Schools, Dampier, Wickham, St Paul's and Karratha Primary Schools, Roebourne Early Learning Centre, and One Tree children's services in Pannawonica.

COVID-19 screening at Western Australian regional airports enhanced

1 May 2020 Update

We are broadening our COVID-19 screening measures in Western Australia by introducing rapid screening for our fly-in-fly-out workforce at Busselton, Geraldton and Albany airports.

The rapid screening, which started at Busselton today and will be rolled out at Geraldton and Albany in coming weeks, will mirror the five-layer rapid COVID-19 process successfully introduced at Perth Airport last month.

Approximately 900 FIFO employees and contractors are expected to commute from Busselton, Geraldton and Albany to operations in the Pilbara every fortnight. Those traveling have been asked to arrive at least 30 minutes before their scheduled departure time to allow for the screening process.

Trained medical staff manage the COVID-19 screening process which is overseen by our occupational physician, who is also overseeing a comprehensive research programme into COVID-19 screening outcomes.

The rapid screening process includes an online and face-to-face health questionnaire, a temperature check and the rapid finger pinprick blood screen to detect viral-related antibodies that is performed by a qualified nurse. The blood sample is not a diagnostic test for COVID-19.

If the blood screen is clear, a coloured wristband is given to confirm the person has been screened and can board their flight. Anyone identified as requiring further testing will not be allowed to depart and will be directed to undertake a diagnostic test for COVID-19 at an approved clinic.

About 100 jobs have been created to help facilitate our screening process at Perth, Busselton, Albany and Geraldton airports. This includes the hiring of out-of-work nurses impacted by restrictions on elective surgery at WA hospitals.

More than 8000 of our FIFO workers and contractors have now been through the rapid COVID-19 screening process since its introduction at Perth Airport last month.

Proud to support the Pilbara in time of need

24 April 2020 Update

We are fortunate to be in a position to support the Western Australian community through the COVID-19 crisis, and with a long history in the Pilbara, it is important we play our part to support our host communities as they respond to and recover from the impacts of COVID-19.

This includes our long-term partnerships with the Shire of Ashburton and City of Karratha.

As part of this, and in response to the community's feedback through Local Voices, we understand the importance to fund initiatives that support community recovery and resilience.

This is why we have contributed A$1 million to the Shire of Ashburton and A$1 million to the City of Karratha to assist with their economic stimulus initiatives and community support.

The funding will focus on building business resilience, driving economic stimulus and supporting community organisations and small businesses in this time of need.

It is important to support regional WA through our contributions in areas critical to the preparedness and response to the pandemic, as well as initiatives to support community recovery and resilience.

We are proud to work with the WA regional community to build community resilience and support COVID-19 recovery efforts.

For more information, email our Community Engagement team at ciwa@riotinto.com.

Increased COVID-19 screening measures at Perth Airport

18 April 2020 Update

We have introduced further measures to help combat the spread of COVID-19 in Western Australia following the start of rapid screening trials at Perth Airport.

Alongside screening controls at airports including questionnaires and temperature screening, a range of other controls have already been introduced across our Pilbara operations to help minimise transmission risk. This includes social distancing on planes, buses, camps and in light-vehicles, reduced people on site via a roster change and stronger controls on access to our sites.

We are now increasing screening measures by introducing a trial of COVID-19 rapid screening at Perth Airport and at our nearby Operations Centre. This will form part of an enhanced five-layer screening process designed to keep the community and our workforce safe. This includes:

A health questionnaire - employees will be asked a series of questions a day prior to travelling to screen for potential exposures to COVID-19, consistent with government restrictions on intra-state travel
A face-to-face assessment with a nurse at Perth Airport
Thermal screening – the employee's temperature is taken via electronic thermometer
Rapid screening - enables the quick identification of people who may be at increased risk of having a viral illness prior to coming to site

This requires a small blood sample taken via a finger pinprick to detect viral related antibodies in the individual's blood
This screening process is not a test for Covid-19. The detection of any viral-related antibodies requires the individual to self-isolate as a precaution and seek prompt testing at an approved clinic

Those cleared will receive an access band allowing them to board their flight

Trained medical staff will perform the COVID-19 screening process with oversight by our occupational physician. There will also be oversight of the comprehensive research into the COVID-19 screening outcomes. These new measures reflect our health and safety obligations under applicable Australian legislation.

The intent is for anyone working at our iron ore operations to undergo screening including all FIFO employees and contractors returning to work. Essential staff at our Operations Centre will also be subject to rapid screening.

New COVID-19 measures for community safety introduced

6 April 2020 Update

Our iron ore operations in the Pilbara region of Western Australia continue to combat the spread and impacts of COVID-19 by introducing further measures to help protect our employees and the community while keeping our operations running safely.

Last week more than 1,200 employees at two Pilbara sites, Yandicoogina and Greater Brockman Operations, commenced new rosters which have been redesigned to reduce the risk of spreading the virus. Employees will work two weeks on followed by two weeks off, helping to protect both the community and our workforce.

Roster changes at the company's other sites in the Pilbara, involving more than 3,500 people, are also being rolled out. These changes will reduce the travel frequency in and out of the Pilbara by replacing existing shorter schedules.

To service these changes, we have secured additional charter flights from Qantas and Virgin Australia Airlines to our Pilbara sites, ensuring compliance with social distancing guidelines by spacing workers appropriately on planes, and in airports.

Recent travel restrictions in to Western Australia have also resulted in changes to our national fly-in fly-out workforce. More than 700 employees with specialist skills have relocated to Perth from interstate or overseas to continue in their role.

Further actions we have taken to support the health and safety of the community and our workforce include:

From this week, all employees will be screened including temperature checks prior to boarding flights.
Introduction of site access control measures to manage entry to sites. Each operation will create 'controlled zones', where no people movements will occur, unless authorised and screened by site supervisors, other than on designated shift changes.
Reduced passenger capacity on buses for all high utilisation routes with every second seat tagged out as unavailable. Reduced occupancy in all light-vehicle travel.
Tightened social distancing measures in village dining rooms and for shift breaks.
Increased cleaning schedule across a range of facilities.

To date, Rio Tinto has committed an additional US$25 million globally to support community COVID-19 preparedness, response and recovery. This will include donations of hygiene products sourced through the supply chain, as well as supporting funding for local community projects and partnerships.

We have also contributed to the Chamber of Minerals and Energy of Western Australia's COVID-19 Community Support Initiative to benefit local communities throughout the State.

This initiative will provide a total of A$6.6 million will be distributed between three key WA organisations - Foodbank WA, Lifeline WA and Royal Flying Doctor Service Western Operations (RFDS WO). This builds on the A$15 million commitment we made to the RFDS in February to fund the purchase of WA's third state-of-the-art Rio Tinto LifeFlight PC-24 jet.

New measures to keep our employees, contractors and partners safe

28 March 2020 Update

There are many things we can and are doing to keep our employees, contractors and partners safe across our iron ore operations in Western Australia. These include the following:

Demobilising some personnel from sites to reduce the potential health risk of exposure to these people
Travel restrictions and mandatory isolation requirements for those who have recently travelled or feel unwell
Pre-screening and temperature testing before flights for all workforce members going to site
Extended and enhanced emergency response procedures
Contact tracing and case management procedures, guided by the Department of Health
On-call service for any of our workforce to return to their home location in the event of a health or family emergency
Support for vulnerable members of the workforce through leader conversations and special leave
Changes to bus services in the Pilbara to allow for increased social distancing protocols. This includes mobilising a larger fleet to enable reduced passenger capacity on individual buses, and more regular cleaning of high touch-point areas such as handrails
Social distancing measures at sites including reduced numbers in dining halls
Increased working from home arrangements to minimise people's interactions wherever possible; additional cleaning and sanitation across offices, facilities and shared equipment
The closure of all bars, indoor gyms and swimming pools at mining camp sites
Increased focus on personal hygiene practices to stop the spread of COVID-19

We will be introducing additional measures to support our operations including the following:

COVID-19 screening tests for all of our people flying to site
Strict protocols for controlling access to our sites stopping any movement other than logistics deliveries
Working with local towns to build on the existing protocols for social distancing

Fly In, Fly Out (FIFO) and Other Travel

We have halted all non-essential work-related travel, instead asking teams to connect in other ways, such as WebEx or Skype, and most of our office-based teams are working from home.

We have also changed our FIFO roster to protect our people and communities.

At the same time, we continue to introduce further key measures to reduce the spread of COVID-19 such as screening tests for all of our people flying to site; strict protocols for controlling access to our sites stopping any movement other than logistics deliveries; on call service for our workforce to return home for health or family emergencies; new social distancing measures on bus services and at site; additional cleaning for shared facilities and equipment; and the closure of all bars, gyms and pools at mining camp sites. We are also working with local towns, governments and community agencies to build on the existing protocols for social distancing.

In addition, we have instituted additional hygiene practices and cleaning for our FIFO employees. Examples of these include the following:

Mandatory hygiene practices when entering buses, recreational areas, dining areas etc
Mandatory cleaning of gym equipment following use (note this applies only to gyms that remain open, per guidelines above)
Additional cleaning and disinfection regimes focussing on high touch point areas, recreational, dining and crib areas etc
Good hand and sneeze/cough hygiene and provide hand sanitising/washing facilities for all workers
Contact Pilbara Communities