We continue to progress important growth opportunities and projects, to bring to market materials critical to the transition to a low-carbon economy: copper, lithium and iron ore, among others.
We have a strong portfolio of projects and exploration activity in seven commodities across more than 18 countries. We focus on investing in quality organic growth and use data and technology to improve our targeting, allowing us to uncover opportunities in areas that have been well explored by others.
Grow in materials enabling the energy transition
Our strategy also focuses on growing in materials required to support the energy transition, such as copper, lithium, aluminium and high-quality iron ore. This will ensure our portfolio remains relevant and is well-placed to meet the commodity needs of future generations."
- Jakob Stausholm, Rio Tinto Chief Executive
The pursuit of the Paris Agreement goals will create additional demand for materials such as copper, lithium, aluminium and high-quality iron ore. These are essential enablers of the energy transition and the development of infrastructure for a low-carbon world. Our ambition is to increase our growth capital to $3.0 billion annually in 2023 to 2024, depending on opportunities, while continuing to provide attractive returns to our shareholders.
We will seek to grow further in copper and battery materials, and to bring additional tonnes of high-grade iron ore to market from the Iron Ore Company of Canada (IOC) and the Simandou project in Guinea. We will continue to align our exploration spend to supplement our existing growth pipeline.
In June 2022, we announced the production of first ore at Gudai-Darri, our first greenfield mine in the Pilbara, Western Australia, in more than a decade. With an expected life of more than 40 years and an annual capacity of 43 million tonnes, Gudai-Darri will underpin future production of our Pilbara Blend™ product.

The mine's commissioning and ramp-up is expected to increase our iron ore production volumes and improve our product mix from the Pilbara in the second half of this year. We will continue to ramp up production from the mine through the remainder of 2022, and we expect to reach full capacity during 2023. We are also progressing a feasibility study to support an expansion of this new hub.
In July 2021, we approved a $108 million investment for underground characterisation studies to support an underground mine below the existing open pit at Kennecott Utah Copper. Potential underground mining would occur concurrently with open pit operations and result in increased copper output.
At Oyu Tolgoi, in Mongolia, we are building a world-class underground mine. Oyu Tolgoi has reserves and resources that make it one of the world's largest known copper and gold deposits. In January 2022, the Oyu Tolgoi Board approved the beginning of the underground operations. This step unlocks the most valuable part of the mine, with sustainable underground production expected in the first half of 2023. When the underground project is fully operational, it will be among the five largest copper mines in the world.
The Rincon Lithium Project is a large, undeveloped lithium-brine project located in the Salta province of Argentina, an emerging hub for greenfield projects. The project is a long-life, scaleable resource capable of producing battery grade lithium carbonate. It has the potential to have one of the lowest carbon footprints in the industry that can help deliver on our decarbonisation commitment.
The Jadar project in Serbia is one of the largest greenfield lithium projects in the world. The project includes an underground mine, an industrial processing facility and associated infrastructure. On 27 July 2021, the Board committed $2.4 billion of funding for the Jadar lithium-borates project in Serbia, subject to receiving all relevant approvals, permits and licences. In January 2022, the Government of Serbia cancelled the Spatial Plan for the Jadar project and required all related permits to be revoked. We are disappointed by this announcement and are committed to exploring all options and are reviewing the legal basis of the decision and the implications for our activities and people in Serbia.
Oyu Tolgoi
one of the world's largest known copper and gold deposits
Global demand for copper is set to grow, driven by urbanisation, industrialisation and increasing requirements for renewable energy: copper plays a key role in electrification and power production.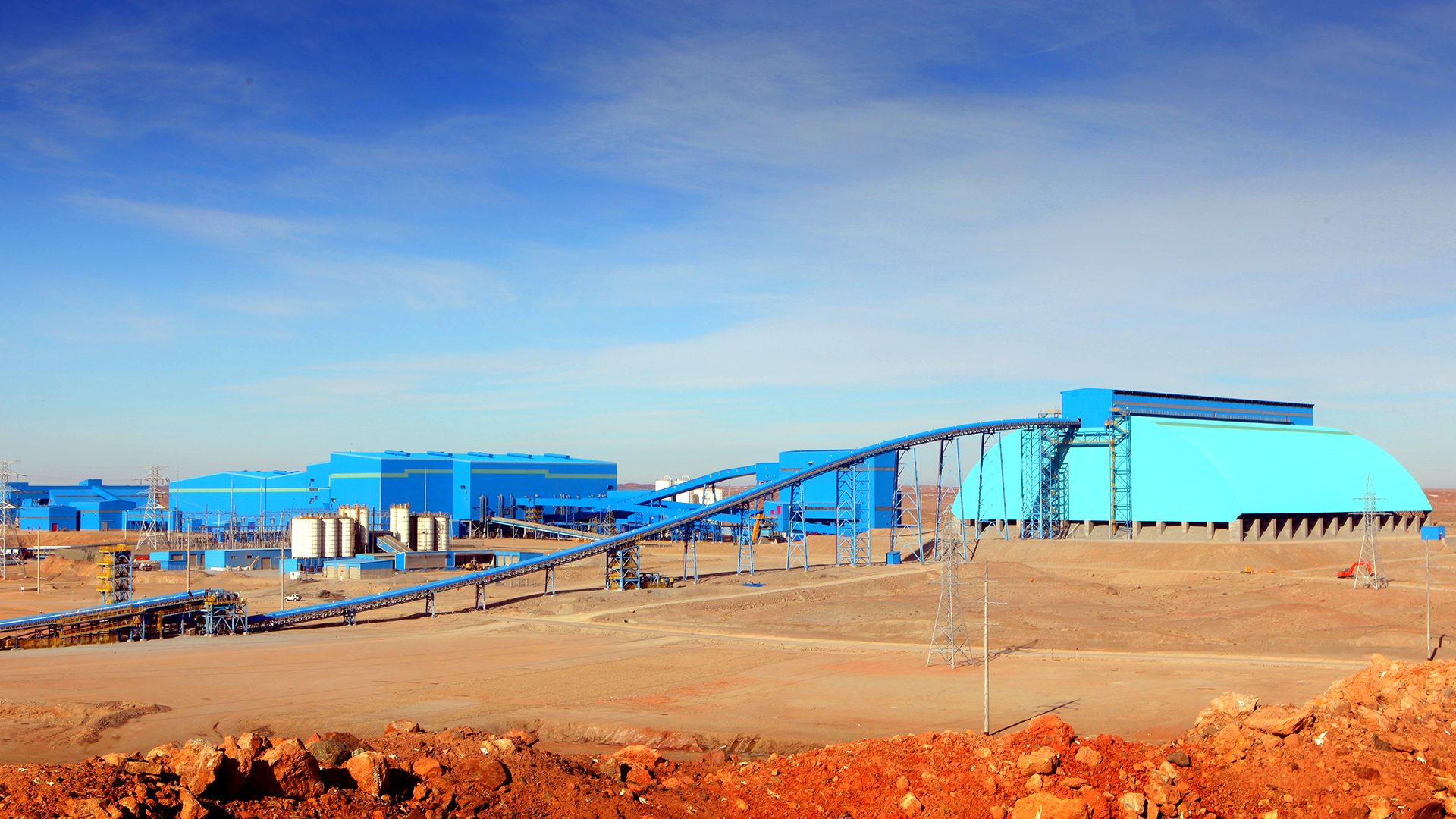 More

For example, a wind turbine capable of generating a megawatt of power – enough to supply several hundred homes – needs more than three tonnes of copper.

Oyu Tolgoi, in the South Gobi region of Mongolia, is one of the largest known copper and gold deposits in the world and when the underground is operational, it is expected to be the world's fourth largest copper mine.

At peak production, Oyu Tolgoi is expected to operate in the first quartile of the copper cash cost curve1. Oyu Tolgoi is expected to produce around 500,000 tonnes of copper per year on average from 2028 to 2036 from the open pit and underground, and an average of around 350,000 tonnes for a further five years2, compared to 163,000 tonnes in 20213.

The OT underground development will consolidate Rio Tinto's position as a leading global supplier of copper at a time when demand is increasing, driven by its role in enabling decarbonisation and electrification in the race to net zero. We will also explore additional opportunities to decarbonise the OT operations, including sourcing renewable power." Jakob Stausholm, Rio Tinto Chief Executive

1 Wood Mackenzie copper equivalent cash cost curve (Q4 2021)

2 The 500ktpa target (stated as recovered metal) for the Oyu Tolgoi underground and open pit mines is underpinned 17 per cent by Proved Ore Reserves and 83 per cent by Probable Ore Reserves for the years 2028-2036. The 350kpa production target for the following 5 years is underpinned 18 per cent by Proved Ore Reserves and 82 per cent by Probable Ore Reserves. These production targets have been scheduled from current mine designs by Competent Persons in accordance with the requirements of the Australasian Code for Reporting of Exploration Results, Minerals Resources and Ore Reserves, 2012 Edition (the JORC code).

3 Rio Tinto Annual Results 2021, published 23 February 2022.
Excel in development
Deliver organic and inorganic growth, on time, on budget
Our portfolio is well-placed to meet the commodity needs of future generations, but we also need to build a pipeline of organic and inorganic growth opportunities and establish a strong track record of capital-efficient delivery.
We are broadening our approach to developing our pipeline of growth options and are testing innovative ways of bringing projects online faster. Through it all, we will maintain our absolute commitment to capital discipline and only pursue opportunities that create value.
We are also focused on further building our capabilities in business development and project execution.
Promising copper discovery in Australia

Winu – a copper and gold project – is part of our high-quality pipeline of exploration projects globally. The Winu deposit is shallow and suitable for open pit mining, located in a great jurisdiction, in flat topography, and 100% owned. We announced the maiden Resource for Winu in July 2020 and believe it has the potential to become a large-scale operation over time.

Gudai-Darri

Gudai-Darri brings together the best of our innovations, including autonomous trucks, trains and drills, as well as the world's first autonomous water trucks.

Meet our modern explorers

Our team of 400+ explorers is out searching the world for the next wave of commodities essential for human progress.