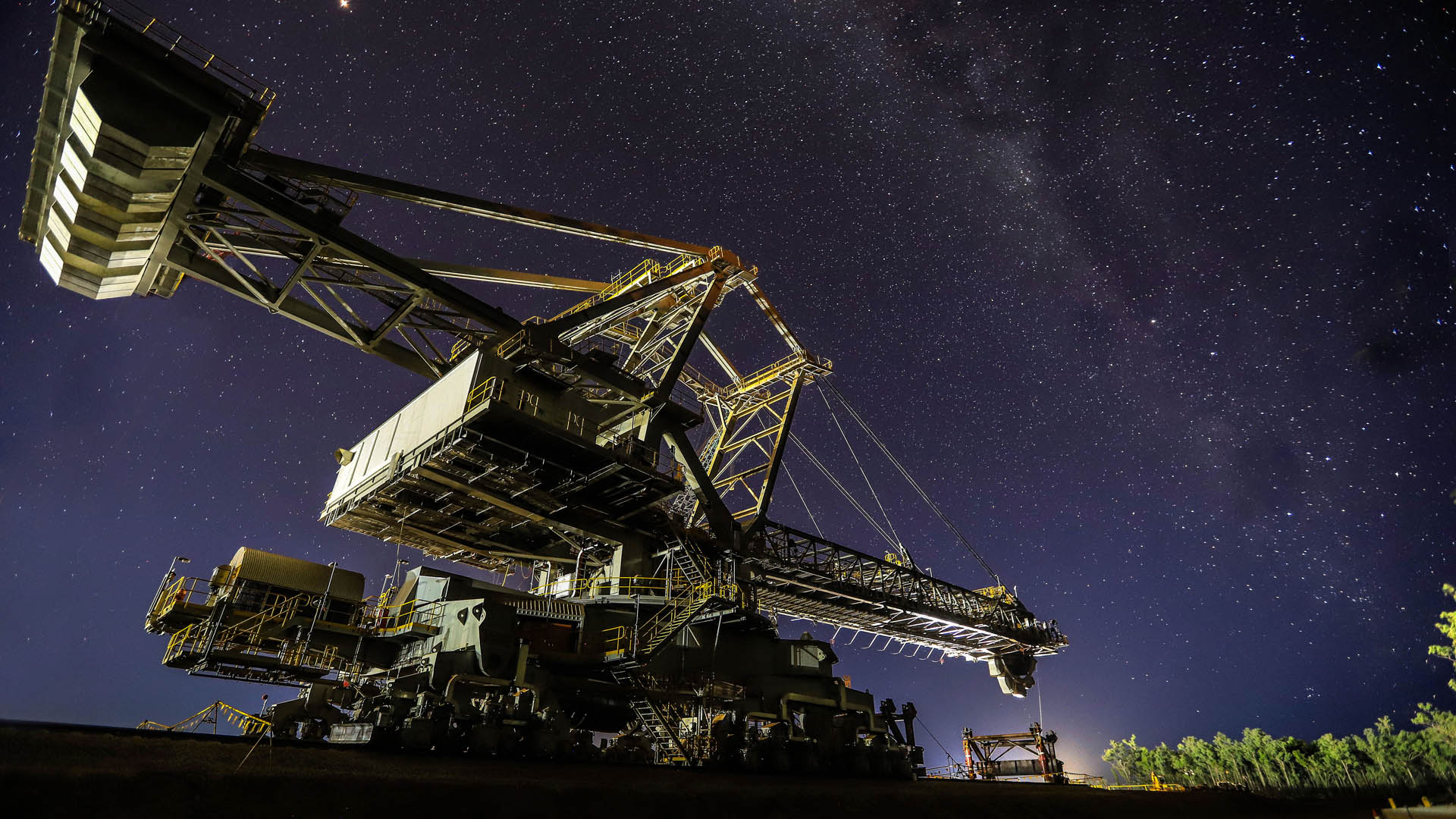 We continue to progress important growth opportunities and projects, to bring to market materials critical to the transition to a low-carbon economy: copper, lithium and iron ore, among others.
We have a strong portfolio of projects with activity in eight commodities across 16 countries; our spend on exploration over the years has been consistent at around $250 million, which we believe remains a differentiator for Rio Tinto. We focus on investing in high-quality organic growth and use data and technology to improve our targeting, allowing us to uncover opportunities in areas that have been well explored by others.
Gudai-Darri

Gudai-Darri will set a benchmark for our industry in terms of automation
and the use of data – making mining safer and more productive.
In 2018, we announced the development of the $2.6 billion Gudai-Darri (Koodaideri) iron ore project – our most intelligent mine – located in the Pilbara, Western Australia and we remain on track to ramp-up production in early 2022. In 2019, we announced a $1.5 billion investment to continue production at our Kennecott copper mine, in the United States, extending operations there to 2032.
At Oyu Tolgoi, in Mongolia, we are building a world-class underground mine. Oyu Tolgoi has reserves and resources that make it one of the world's largest known copper and gold deposits. When working to full capacity, it will be the world's fourth-biggest copper mine. We are also looking at options to grow our position in minerals relating to battery technology. A good example of this is our lithium project – Jadar – in Serbia.
Jadar
A world class lithium-boron deposit
In 2004, we discovered a new mineral – now known as jadarite – in the Jadar Valley in western Serbia. Jadarite is unique given its chemical concentrations of lithium, boron and other minerals.
More

Lithium is part of our portfolio of materials essential to a low-carbon future, with double digit demand growth forecast over the next decade.

In July 2021, we committed funding of US$2.4 billion to develop the Jadar project. The next steps for the project are the granting of an exploitation licence by the Government of Serbia and receipt of regulatory approvals. This includes approval of the environmental impact assessment (EIA) studies, which will be made available to the public for comment. The EIA is required for the construction permit, with construction currently targeted to commence in 2022 and would take up to four years.

First saleable production from the mine is expected 2026 and, following ramp up to full production in 2029, the mine will produce annually ~58,000 tonnes of lithium carbonate, 160,000 tonnes of boric acid (B2O3 units) and 255,000 tonnes of sodium sulphate1, making us one of the top ten lithium producers in the world. It could supply enough lithium to power over one million electric vehicles per year2.

The proposed Jadar development will include an underground mine, an industrial processing facility and associated infrastructure. The project is innovative to Rio Tinto in many ways and we are working with local and international experts to design a long-life, sustainable operation that benefits the surrounding communities.

We recognise that in progressing this project we must listen to and respect the views of all stakeholders. We are committed to upholding the highest environmental standards and building sustainable futures for the communities we operate in, working closely with the local community, the Government of Serbia and civil society.

1 These production targets were previously reported in a release to the Australian Securities Exchange (ASX) dated 10 December 2020, "Rio Tinto declares maiden Ore Reserve at Jadar" (for battery-grade lithium carbonate it was 55,000 tonnes). All material assumptions underpinning the production targets continue to apply and have not materially changed.

2 Assuming 60kWh battery size
Meet our Modern Explorers

Our team of 400+ explorers is out searching the world for the next wave of commodities essential for human progress.

Promising Copper Discovery in Australia

Our Winu Project is one opportunity in our high-quality pipeline of exploration projects globally. It is at a very early stage, but our initial results are promising. Winu is a copper and gold system, shallow and suitable for open pit mining, located in a great jurisdiction and in flat topography, and 100% owned.